Angela Merkel famously thought we were working when we weren't during Euro 2012, but the Irish in Berlin can't be accused of shirking their patriotic duties in the run up to St Patrick's Day.
From humble beginnings of 150 people in 2011, the parade has grown to a festival of events, including a concert and film screenings this year.
Last year, over 5,000 people participated in the parade, which wound its way through Kreuzberg, and organisers Dara O'Neill, Karol Keane, Fernanda Parente, Kiera Senst and Melanie Marten are hoping to top that this year.

Pádraic Geoghegan reports that the St Patrick's Day Parade in Berlin has grown to a week-long festival of events
Mr O'Neill, St Patrick's Day Berlin founder and creative director, said the idea originally came from feeling homesick around St Patrick's Day.
He said: "Well, we started it because on Paddy's Day you tend to get a bit homesick and it's one of the only days of the year in Berlin that you might want to celebrate what it means to be Irish to you and really there was nothing in Berlin with the scope needed to facilitate that release.
"Back then we owned a nightclub called Kleine Reise and because its owners were three Irish guys (Dara O'Neill, Patrick Reddy and Peter Power) we had a lot of Irish regulars.
"Over time this formed into a solid little Irish community that I wasn't fully aware existed until we opened the venue. So really, the first 150 people who made the parade were made up of this group and their friends."
He said the reason the parade has flourished is because the community in Berlin has been so supportive.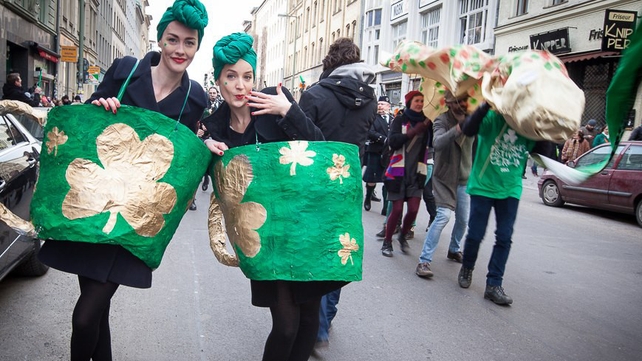 He said: "Because of the lack of sponsorship we are forced to ask favours of many others, so the wider community of Irish and Irish lovers also lend us great support, which is essential and very much appreciated."
There are over 1,000 Irish people registered in Berlin, but he feels the Irish community could be much bigger.
"I'm not sure of the recent numbers, but a couple of years ago I got a look at the data and there was 1,000 Irish people registered," he said.
"Everybody in Germany is required to register the address at where they live. I think a lot of ex-pats don't fully understand this concept, so my guess is the number is much, much bigger than that. It certainly has grown in the last couple of years as Ireland's economy tanked."
He said that the economic differences between the two countries have had a major contribution as to why it grew so quickly.
Mr O'Neill said: "Last year I met a 76-year-old lady from Cavan. She was standing over by the side of the stage looking out on the crowd.
"She came up to me with tears in her eyes asking if I was the organiser of the event. She gave me a big hug and said it was the best St Patrick's Day she ever had in her life.
"She was in Berlin visiting her grandchildren who had moved over earlier that year, like so many others.
"She was so happy to be there with her son and her grandchildren and how they had said that day that they felt at home for the first time since moving.
"I guess that was a level of reach that I hadn't fully contemplated until that moment, but it really stuck with me and I've used the emotion it stirred in me to drive forward with plans for this year."
The festival organisers have struggled for funding this year, and Mr O'Neill said public demand is outstripping their time and resources.
He said: "The funding has been really difficult this year. Our main problem is the public demand for the festival is so high and growing so fast and yet we can't dedicate our time to grow it at the speed and scope that it requires.
"That means lots of compromises that really frustrate us. It's not like we're asking for charity. It would be a mutually beneficial arrangement.
"If we had sponsors I'd be mentioning them now. We also have wanted to keep all events free of charge to the public as an expression of the Irish welcome and warmth, but it killed us this year to ask for €2 entry to the concert to try and cover our costs.
"We're donating all of our time and taking big financial risks and so far no-one is meeting us half way."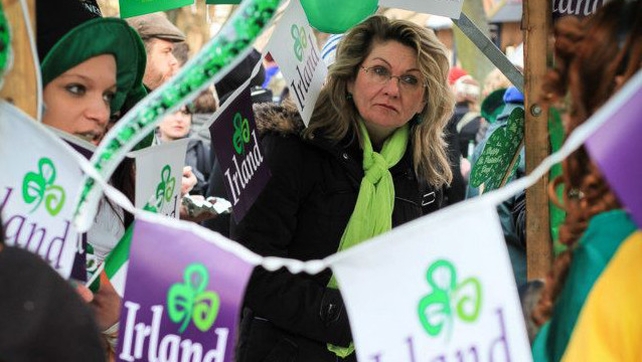 He said the Irish in Berlin were held in high regard both before and after the EU/IMF bailout.
Mr O'Neill said: "Ireland and Germany have never been as intrinsically linked as we are today. We're both facing in the same direction, holding hands and flirting.
"It is discussed in the media but not on the street. I guess it can't hurt that that all went off without a hitch whether you agree with the process or not. Really though, the Irish were held in very high regard before the bailout and still after.
"I've lived in Berlin for nearly eight years and the wonderful thing about being Irish in Germany is that there is common ground there. I've always felt a sense of love for the Irish from the Berliners that I've met and I've always appreciated that welcoming vibe.
"If the St Patrick's Festival is anything it's a celebration of that wonderful relationship that we share. There aren't any other big occasions to acknowledge that!"
The parade begins at the Plänterwald S-Bahn on Sunday at 2pm, with a concert taking place in Arena Berlin, Eichenstraße 4 immediately afterwards.