While the storms of recent weeks have wreaked havoc across Ireland, causing millions of euro worth of damage to property, they've also been a godsend to a Co Cork-based boat builder, writes Southern Editor Paschal Sheehy.
Safehaven Marine has been sea-trialling its pilot and search-and-rescue boats in some of the worst weather conditions seen in Ireland for years.
The company, which employs 30 people, builds search-and-rescue and pilot boats at Youghal in east Cork and has built over 100 vessels, which are in service all over the world.
Once each boat is built it has to be tested to the very edge of its limits.
During the stormy conditions, Safehaven has been sea-trialling two search and rescue boats at Roche's Point in Cork Harbour.
Pictures recorded by the company were captured on Monday while Storm Christine was battering the country, and graphically illustrate the tough conditions.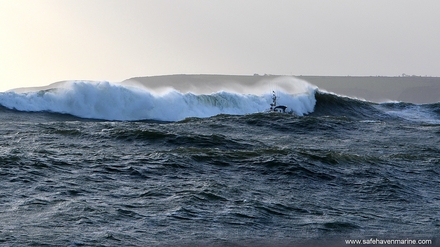 Wind speeds at the time exceeded 100km/h, while Met Éireann recorded nearby waves at almost 20 metres high.
But the rougher the conditions, the better the trial.
Ian Brownlee has been sea-trialling Safehaven's boats for the past eight years.
He was at the wheel during these trials too, presenting him with some of the toughest conditions he's ever encountered.
The spin-off for Safehaven is positive: rigorous trials help the company build better boats.
Its order book is full to the end of the year and so the sea trials will go on - no matter how difficult the conditions.