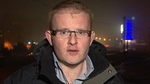 Ray Colgan reports on the challenges faced by the thousands of Syrian refugees living in towns and cities in Jordan.
Aid agencies call them the invisible refugees. They don't live in camps.
They're the estimated 250,000 Syrians who have fled to Jordan and are now living in towns and cities.
These urban refugees account for 80% of the Syrian refugees in Jordan.
And yes, in one sense, they are invisible.
They aren't gathered in one place, so there's no camp you can visit.
There aren't rows of tents to give you a visual impression of how dire their situation is or how numerous they are.
Yet their problems are almost identical to those living in camps like Za'atari.
They came to Jordan to try to establish a life for themselves until they can return to Syria.
But jobs are hard to find and until they register with the UNHCR, accessing help can be difficult.
Due to the huge influx of refugees, there's a backlog.
Aid agencies believe it is preferable that people stay out of the camps whenever possible.
Living in communities in Jordan gives them something at least a little closer to their lives at home.
These urban refugees present aid agencies with a serious challenge.
Once you're funded, it's relatively easy to get help to people when they're gathered in one spot.
Reaching them when they're dotted around many different towns and cities is much tougher.
We visit a scheme, funded by the EU and managed by Save the Children. Before we arrive those waiting for help are told of our impending arrival.
That's to allow those who don't want their faces shown to cover up or step outside for a few minutes. We've encountered that problem more than once.
People are very frightened, even though they're no longer in Syria. In part it's due to fear of reprisals against relatives still there.
But I also wonder if it is partly because people aren't convinced that Bashar Al-Assad's days are numbered.
The project gives cash to refugees who have not yet managed to register with the UN. We're told they get 100 dinars per month, roughly €103.
The money is on pre-paid visa cards. It has to last a family of four for four weeks.
We're introduced to a man in his mid-fifties, who's just received his card. He's willing to take us to his home to show us how he and his family of eight live.
He doesn't want his full name used so we just call him Abu Riyad. He lives in a two-room apartment with his extended family of eight people.
Just before he sits down to record our interview he removes his glasses and wraps a scarf round his head. The glasses are then carefully put back in place.
Abu Riyad sold fruit and vegetables in Syria. He first fled Homs, then Damascus after the shelling there "got too much".
Two of his children have learning difficulties. He had to carry them across the border. He tells us that at his age he knows he has no chance of finding a job.
Things are so desperate he has to borrow money. The cash card will just about take care of his rent. When we ask him if he thinks he'll ever get back to Syria, his response is immediate and determined: if not today, then tomorrow.
Unfortunately, his case is not unusual. While he's determined that his family's next move will be back to Syria, for many urban refugees the best option seems to be to return to the camps.