Events are being held around the world to mark UNICEF's World Children's Day, which highlights the UN General Assembly's adoption of the Declaration of the Rights of the Child in 1959.
In Galway, one school is completing a programme to be recognised as a "child rights school".
Pupils at Educate Together in Knocknacarra have formed a student council and "taken over the school".
It is one of 28 schools across the country participating in the UNICEF programme.
Pupils at the school learned that the United Nations Convention on the Rights of the Child is an agreement by countries that have promised to protect children's rights.
Speaking at the school, teacher Margaret Wright said: "UNICEF are fantastic in giving us resources to help deliver the three-year programme. We have lessons linked to each of the articles within the Convention on the Rights of the Child, and we deliver those lessons across all classes."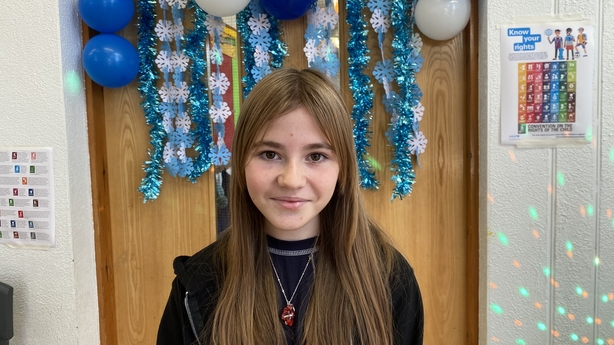 "They're very differentiated really well so that the children can access the lessons and we can adapt them to suit the different age groups."
Fifth-class pupil Yaroslava Liskovetska, 11, came to Ireland from Ukraine just over a year ago.
She said: "I'm so happy to be in Ireland where I feel safe and have made friends and learned to speak English.
"My country is a very dangerous place to live right now. Nobody knows what will happen today or tomorrow. So I'm here learning about children's rights and the work of UNICEF around the world.
"I hope we will see an end to all the terrible wars where children have no voice and are being killed and injured every day."
The school plans to visit other local schools in Galway to highlight the work it is doing in advocating for children's rights.