The newest exhibit at the Ulster Folk Museum is also its oldest.
A court tomb containing four burial chambers that dates back more than 6,000 years.
Reconstructed in a field at the museum, the exhibit opened to the public last week and there is not yet any signage to point the way.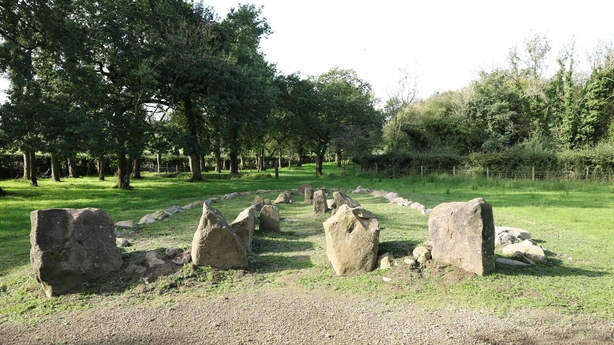 But visitors who have heard or read about the tomb have been finding their way for a glimpse into Ireland's ancient past.
When RTÉ News went along last week visitors included a couple from Nuremberg in southern Germany.
As luck would have it, Dr Greer Ramsey, curator of archaeology at National Museums Northern Ireland, was on site and gave them a quick history lesson about a tomb older than Egypt's pyramids.
He explained how it was excavated from its original location at Ballintaggart near Portadown in Co Armagh in 1966 because it was threatened by the expansion of a neighbouring quarry.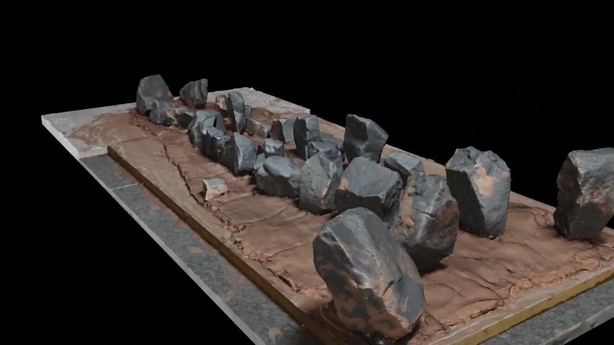 It was later put on display at the Ulster Museum in south Belfast, but in 2006 the stones were put into storage at the Ulster Folk Museum and remained unseen until the restoration project began earlier this year.
The reconstruction was aided by researchers at Queen's University who created models of each stone, and these were then 3D scanned to provide a full 360-degree view of each so they could be accurately installed on site.
"What you're seeing now is the skeleton or outline plan of the tomb, it would have originally looked much more spectacular," he explained.
"The main burial chambers, which is a long line of narrow stones, would have covered with capstones and the whole site itself covered in a huge mound of earth, so it would have stood out like the proverbial sore thumb in the landscape."
Mother and daughter Debbie and Anna Park didn't have far to travel as they live "just down the road."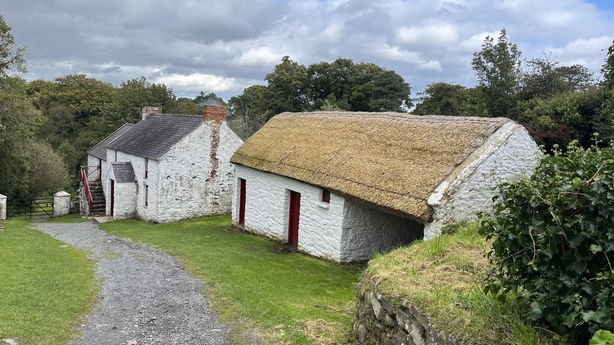 They have been regular visitors to the museum for many years but visited again last week specifically to see the newest and oldest attraction.
"We read about this having opened and thought we'd come and see it," said mum Debbie.
"We used to come here quite a lot, but we have never seen the tomb before. This is very different. The rest of the displays are from around the 1900s and this is obviously a lot older than that. It's well worth seeing."
Daughter Anna was equally impressed.
"It's impressive that we still have it and it's amazing that they were going to dig it up for a quarry," she said.
"The fact that it's still all together like that as well is very spectacular. I'm very impressed."
The Neolithic era structure is one of more than 400 court tombs in Ireland which have a distinctly northern distribution.
The Ulster Folk Museum, around 11 kilometres, east of Belfast, contains dozens of reconstructed buildings designed to illustrate the way of life and traditions of the people of Northern Ireland, past and present.
They include churches, a former Royal Irish Constabulary barracks, a picture house, and a spade mill, with guides to explain and demonstrate how life was at the time the buildings were in use.