A police initiative that uses a codeword for women and young girls to discreetly ask for help if they feel threatened or unsafe on a night out in Northern Ireland is being expanded to cover music festivals during the summer.
Bar and security staff in festival and concert venues will be trained to respond if someone asks for Angela.
First introduced in England in 2016, the initiative has also been rolled out in a number of locations in the Republic.
It has been running in Northern Ireland since December with 350 bars and clubs signing up, and the PSNI is now extending it to large outdoor events.
The first large-scale event where staff have been trained will take place in Belfast's Ormeau Park tomorrow night when a crowd of 15,000 will cheer on Lionel Ritchie when he headlines the Belsonic festival.
It is the first in a series of large festivals that will run over the summer.
The PSNI has teamed up with organisers to train staff to take part in the Ask for Angela safeguarding initiative.
If someone feels threatened or unsafe they can ask a member of staff for Angela to signal that they need help.
Staff can offer support like reuniting them with someone they trust, making sure they get into a taxi safely, calling security to remove anyone causing distress, or calling the police.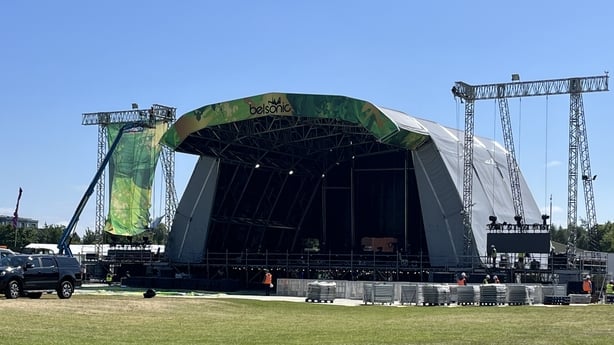 "We want to ensure that women and young girls can feel as safe as possible when attending outdoor events," explains Chief Superintendent Davy Beck.
"We thought this was a really good opporunity to launch the initiative to encourage people in terms of their ability to use the scheme but also to encourage other venues to join us in this partnership approach.
"We know from venues where the scheme is in place that it is working well and it has been used by women and young girls who asked for assistance for a range of reasons."
A sign advertising the service has been placed in the women's toilet area at the festival and others will be on display.
Festival organisers believe growing public knowledge about the scheme will help prevent women and young girls from being harassed.
"I think the awareness campaign around Ask Angela is potentially a deterrent for any kind of abhorrent behaviour that people would engage in because they know that there are systems in place to deter and many it," says Belsonic organiser Joe Dougan.
He said: "We know from experience in smaller venues where staff have been trained and it's advertised that people are using it and we will be rolling it out across all of our larger events over the summer."