A dedicated institute for clinical trials has been launched in Co Galway which aims to combine cutting edge research with the needs of patients undergoing treatment for serious illnesses.
The University of Galway says the initiative will enhance Ireland's position at the forefront of clinical and biomedical discovery.
The institute was formally launched this morning by Noreen Doyle from Naas, Co Kildare, whose family has first hand experience of the benefits that accrue from clinical trials.
Her son James was diagnosed with acute lymphoblastic leukaemia when he was two years old.
Days into his treatment, the family were asked to participate in a clinical trial at Our Lady's Hospital for Sick Children in Crumlin.
"We had no idea what that was about… we only knew if there was anything that James had to go through would help any child and their family in the future, it was the morally right thing for us to do," Mrs Doyle said.
After over four years of treatment her son made a full recovery.
'Rollercoaster of memories'
But a few years later Mrs Doyle's daughter, Kate, became unwell.
"We brought her to hospital and she was diagnosed in an hour" as suffering from that same form of rare cancer that her older brother had overcome.
"We were quite unusual in that we had two children with the same condition and immediately we were revisiting the experience that our son had gone through," Mrs Doyle said.
"It was a rollercoaster of memories that came shooting back straight away.
"But as a result of medical trials - and specifically the one that James had participated in - Kate's treatment duration was halved, she walked out of Crumlin two years and one month later, cleared of her cancer.
"She had minimal disruption to her life, her quality of life was superior in comparison to what her brother had gone through and that was all down to the learning that happened in those clinical trials."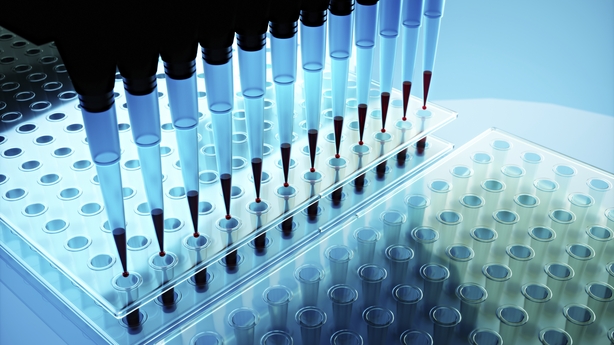 Mrs Doyle says her family's experience is exactly what such trials are about.
"We got hope the minute they told us 'the trial your son did is going to help his little sister' and immediately we were thinking this is doable; it's awful but it's so much more doable."
Now both children are living full healthy lives.
"We were very lucky in that I have four, gorgeous, head-wrecking teenagers at this stage," Mrs Doyle said.
"James is sitting at home supposedly studying for his Leaving Cert and Kate is currently doing her second year exams."
Mrs Doyle says the experience has shown her the important role that clinical trials can play in driving treatment innovations and says the new institute will allow families from the west and north west to access these in an easier and more straightforward fashion.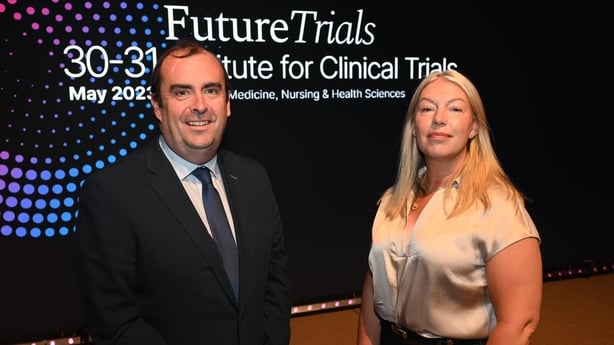 The Director of the new Institute for Clinical Trials, Professor Peter Doran, said there is evidence to show patients attending hospitals with active research programmes have better outcomes, due to their early access to new treatments and the culture of inquiry that exists in such healthcare settings.
He said the work in Galway would involve a systematic, careful approach, to examine what happens when people receive new treatments.
"Our ambition is to ensure patients across the west and north-west have access to clinical trials, because attending a healthcare system that is 'research active', is better for those patients," said Professor Doran.
"It also means they will have access to the best treatments that occur over the coming years.
"We don't want them to be disenfranchised and lagging behind other regions."
The institute hopes to work in tandem with Galway's medical technology sector, to drive innovation and aid clinical evaluations.
Typically it takes between four and eight years for the efforts of a clinical trial to bear fruit.
The institute will examine how best to improve that timeframe and "get better answers, faster, to accelerate the pace of discovery".
Professor Aoife Lowery, who is the Clinical Lead at the institute, said the research undertaken will be "relevant to the patients in the community".
She said that the benefits of the initiative were clear: "Over the last 15 to 20 years, we've seen a huge improvement in rates of survival for people with breast cancer.
"That's down to the evidence from clinical trials. It's improved diagnosis, it's improved prevention and it's also improved the treatment.
"What we will be doing here will be regionally relevant but we hope to be internationally impactful, by implementing the findings of our research."
Prof Lowery said the institute would enhance the existing collaboration and partnership between the University and the Saolta hospital group.
She said this will ensure patients have access to the most up to date and novel therapies and interventions, as well as extending its reach to hospitals around the region.