Around 300 people are attending a rally against racism in Eyre Square, Galway this afternoon.
Galway Communities Against Racism and Discrimination represents a network of community, voluntary and environmental organisations including the Galway Traveller Movement, Galway City Partnership and Amach!LGBT+.
Margaret O'Riada is one of the organisers.
"As a group, we believe that Galway City's diversity is its strength, and we would like to build on this, and make sure that everyone feels included and welcomed in our community," she said.
"We are here today demonstrating solidarity for all our communities. We are also calling on the State to tackle the housing and accommodation crisis with a coordinated response unit. We want to see an end to homelessness and guaranteed access and a right to a home for all," Ms O'Riada said.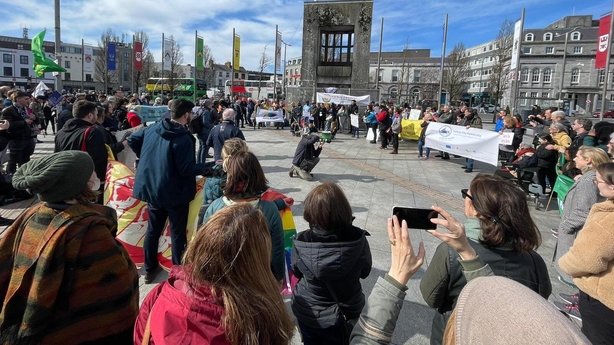 The group are also concerned about what they say is an anti-migrant sentiment being promoted by the far right.
"The far right has increasingly taken up a space in the public consciousness that is based on a racist, sexist, regressive narrative that is targeting migrant/refugee communities who have recently arrived and is hindering the attainment of rights and inclusion for minority communities."
Organisations around Galway City and County are being asked to sign a community solidarity pledge.
The pledge asks organisations to: "Stand against all forms of racism and discrimination, including sexism, homophobia, and transphobia. We want to create a society where all people feel respected, valued and protected. We believe in equality for all and don't tolerate racism, the spread of hate in our communities, or any form of discrimination".