A Galway woman who has spent most of her adult life campaigning for people with disabilities has taken on a new challenge to improve accessibility and services for disabled people across businesses in Galway city.
Maggie Woods is a formidable 60-year-old grandmother and thalidomide survivor who has overcome significant challenges to live life to the full.
She has now set herself a new challenge as project director of the Galway Gold Star initiative.
She will work with Galway City Partnership to highlight and reward businesses who have improved accessibility and services for people with disabilities.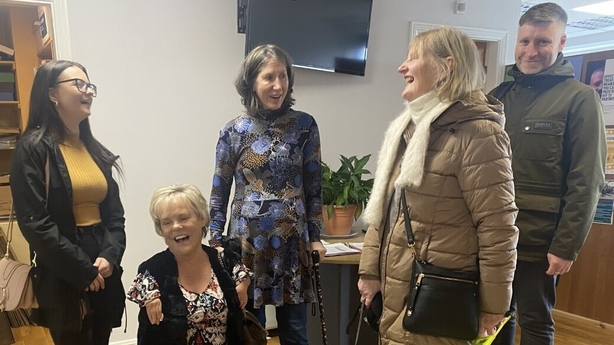 For almost a decade Maggie Woods was the face of the Irish Thalidomide Association.
She has campaigned tirelessly for justice on the part of herself and other survivors of the thalidomide drug scandal in the late 1950s and early 1960s.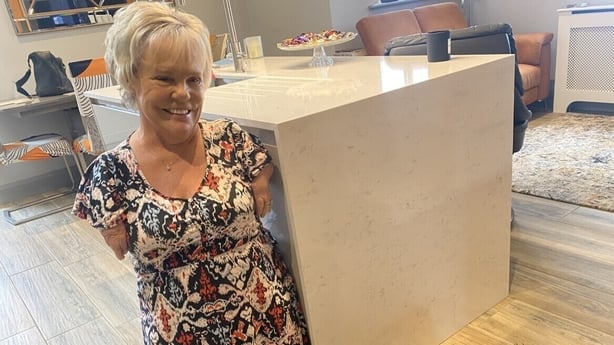 The drug was used to treat pregnant women with morning sickness resulting in severe birth defects.
Maggie was one of the so-called thalidomide babies. She never uses the word 'victim' but says her disability absolutely defines her.
"I am very different. There's no doubt about that. And I'm reminded of my difference every single day. Every minute of every day that I put my nose outside the front door, I'm reminded of my difference and that's the bottom line.
"I think when you're born with a very obvious disability, like the issues that I have, then you make two choices, and that is to either sink or swim and I chose to swim.
"Thankfully I've always had great support from my own immediate family in Donegal and my family now in Galway.
"I have to keep going. I have to keep going on for you know, my own two adult sons and my daughter-in-law and two beautiful grandsons, Jamie and Josh. And you know I'm very proud of everything I have achieved to date," she says.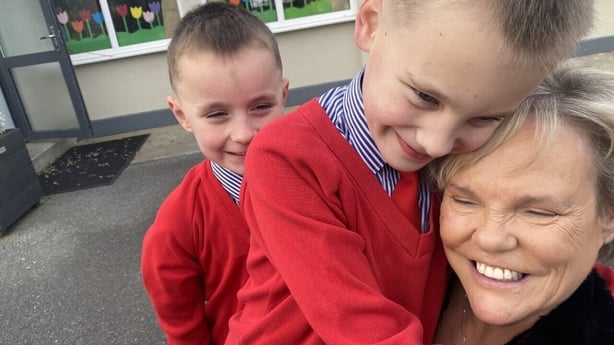 Maggie lives in a house that has been adapted to meet her needs. Her daughter-in-law Becky works as her personal assistant and the two women enjoy a close bond.
"I get her up in the morning, shower and dress Maggie and make sure the house is in order. She tells me exactly what she would like and I do exactly what she needs.
"But if she had to do it on her own she'd be able as well," says Becky chuckling.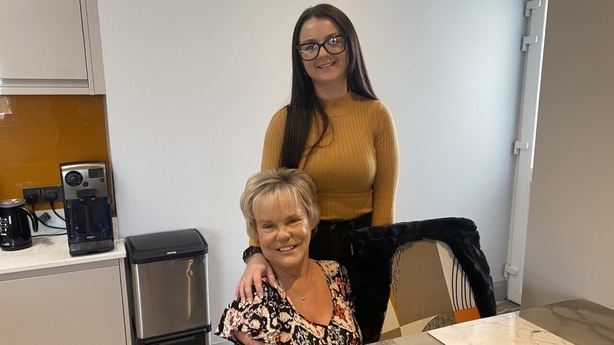 Maggie drives a specially adapted car but Becky says she can be a long time finding a car space.
"The accessibility thing is disastrous for Maggie. Sometimes she's driving around in circles for ages looking for a space.
"There really needs to be something done to improve accessibility for disabled drivers and Maggie is a great voice advocating for better services. She's a dynamo and we get on great together," says Becky.
Maggie's positive attitude has stood her in good stead as she navigates the many challenges in life.
"I'm not the stereotypical type of person with such a disability. You know, a lot of people wouldn't have the confidence. I think what really drives me and what really supports me in my life is the fact that I am so confident.
"I love getting my hair done. I love putting on makeup, I love getting my nails done. I take a real interest in you know, how many lines have I on my face today and how would I get rid of them?"
Maggie says she is very confident despite her very obvious disabilities.
"Yeah, I'd be very confident and I try to help other people with disabilities believe in themselves as well. Yes, you can do this. Yes, it's a struggle. Yes. You can do it," she says.
Hear the story of this extraordinary woman on #RTENationwide this evening, Friday 3rd March @RTEOne 7pm https://t.co/uGP2peXfX5

— RTÉ Nationwide (@RTENationwide) March 3, 2023
At 60 years of age Maggie Woods continues to embrace all that life has to offer. Her campaigning to improve services for disabled people shows no sign of slowing down.
This time she has set herself a new challenge with the roll-out of the Galway Gold Star Initiative. Originally developed by the HSE in Tipperary, Maggie took the project to Galway City Partnership designed to improve accessibility and services for disabled people across businesses in Galway city
Linda Sice-Brogan, CEO of Galway City Partnership says the initiative which has three categories is funded under the disability participation and awareness fund via Galway City Council.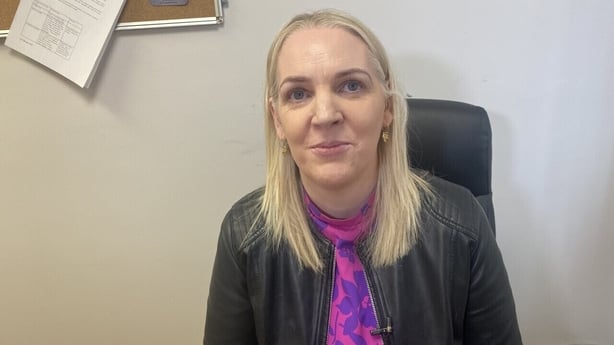 "There's bronze, silver and gold. Maggie will go out with employers and business owners and looks at their premises for accessibility and speaks with the HR person around awareness raising for staff and helps establish how facilities can be more disability friendly.
"Sometimes significant changes are made and sometimes minor adjustments are all that's needed," Linda says.
Maggie Woods is passionate about the role of education in fostering respect and celebrating inclusion. Her two grandsons Jamie and Joshua attend Cregmore National School outside Galway City. They're very proud of their Nana and say "we love everything about her".
Niamh Ní Chearbhail, a teacher at the school describes Maggie as "a powerhouse of a woman".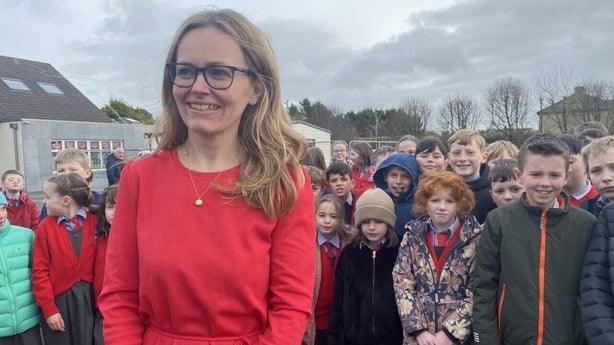 "It's been wonderful to have her today. Her sons attended the school, and now her lovely grandsons. And it's just a wonderful opportunity to teach the children about equality, inclusion, diversity, so many life skills are being learned."
Maggie Woods will soon be awarding stars to businesses in Galway who improve their services for the disabled. But when it comes to advocating for people with disabilities, her own star still shines brightest
Meanwhile, survivors of thalidomide and parents have renewed their appeal for a State apology more than 60 years after the drug was removed from the market.