A conference has heard that attracting more women into politics is challenging given the recent testimonies of abuse and harassment.
However, the head of an initiative which supports women from rural constituencies to become councillors has said there is a moral imperative not to let this deter women.
The See Her Elected (SHE) programme was set up in 2019 in response to the underrepresentation of women in the county councils of the Midlands and North-West region.
An event is taking place in Mullingar today as part of its continued efforts to increasing the number and diversity of woman in local government.
Westmeath County Council is hosting the conference which has heard from a number of local and national politicians.
"There's not a chamber in the country where women's voices should not be at the table" said Sinn Féin TD for Longford-Westmeath Sorca Clarke.
"There's also not a chamber in the country where we don't have to improve on that underrepresentation" she added.
Ms Clarke, who has been the victim of abuse and harassment, said female politicians must continue speaking about the issues they face.
"We should speak about them openly and together with our male counterparts, we say: 'No more'. We are not going to tolerate this", she said.
"While we still have that imbalance in politics, we are not going to stop this. We stop this by having more female voices and more participation" she added.
"I have had my office vandalised, I've had abuse directed at me, I've had letters sent to me and I've had people calling to my home and being threatening to me," Ms Clarke added.
"It was very distressing but the amount of support I received from within and outside the party was very encouraging," she added.
"Only yesterday I had to say to someone if your behaviour doesn't change, I'll have to go to the guards" she added.
"I was told by another TD that they had a knife held to their throat and that's the level it's at," Ms Clarke said.
"We don't want to be in a position where we are forced to change our political system because of the actions of a small minority," she said.
Dr Michelle Maher is the programme manager of SHE.
"Today sends out a strong message. Women aren't going to let anything deter them from taking their place in council chambers," Dr Maher said.
"If women don't go forward for election, nothing is ever going to change. Rather than this deterring them, it's strengthening their resolve to do something about this and put themselves forward," she said.
"There is a moral imperative to not let this stop women from getting ahead," she added.
Just 26% of the country's councillors are female and in rural Ireland that percentage is significantly lower.
In Westmeath, four of the 20 councillors are female.
Fine Gael councillor Emily Wallace was co-opted on to Westmeath County Council in place of Peter Burke, who was elected to the Dáil in 2016.
She was elected, in her own right, in 2019.
"As a society we're changing dramatically, and those voices need to be heard" Ms Wallace said.
She accepts it is difficult to juggle the work of a councillor with home life however she said supports are being looked at.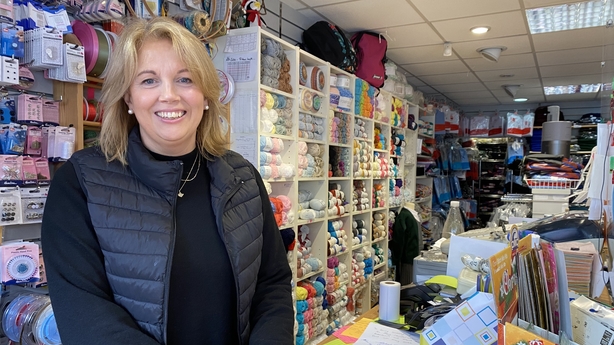 "I know if I'm in a late meeting my kids will be sitting on the stairs of the chamber waiting for me," she said.
"In Westmeath County Council, we're now looking at a nappy changing area and also putting in a space for children where they come to do their homework while we're in a meeting," she said.
In other counties, the ratio of female councillors is lower.
For example, in Offaly there is only one female councillor out of 19 and in Longford there are only two female councillors out of 18.
"The role should be something that everybody can do and we need to make sure it is suited and set up that way," Green Party councillor and Mayor of Mullingar Hazel Smyth said.
"There's a lot more flexibility now. You can dial into meetings for example. We need to more accommodating, and we need to seek more family friendly hours" she added.
"It's so important to have female voices. They bring a different perspective to the table," she said.
On harassment and abuse, Ms Smyth said there are difficult aspects to the job of a councillor.
"We need women more than ever before and these trolls and bullies should not be allowed to take us down," she said.
There is a low percentage of women from more diverse backgrounds involved in politics.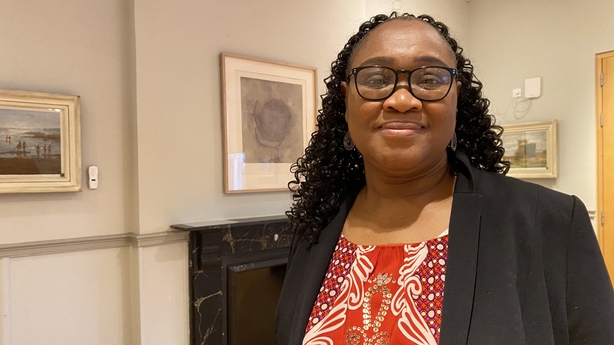 Tina Adugun from Athlone's Women Forum, which promotes the integration of African women in Irish society, called for more representation from diverse communities.
"This country today is made up of diverse communities. If you want to govern for the people, they you have to representatives of all the community" Ms Adugun said.
"People I know are interested in getting involved however because we are largely unknown are motives are being questioned over and over again," said Ms Adugun.
"People are coming forward - if only we could be seen and heard," she said.