The death has taken place in Cork of the former Irish Examiner editor Brian Looney at the age of 63.
He was also a former editor of The Kerryman newspaper, and a former Managing Director of the Dundalk Democrat.
He worked for a time as director of policy communications with Fine Gael.
Mr Looney became editor of what was then the Cork Examiner in 1994, after spending six years as editor of The Kerryman.
He rebranded and redesigned the paper, as its editorial focus became more national.
He oversaw a change in the title to The Examiner in 1998, the title changed again later to the Irish Examiner.
President Michael D Higgins has paid tribute to Mr Looney, saying he made a "lasting contribution to Irish journalism".
May I send my condolences to the family, friends & colleagues of Brian Looney.Brian was known as a pioneering newspaper editor and through this work,and the many fine journalists to whom he gave early opportunities in the profession,made a lasting contribution to Irish journalism

— President of Ireland (@PresidentIRL) January 10, 2023
"Brian transformed the Examiner at a critical time in its history, in the mid-'90s, when it needed the vision and ambition that he had in spades," said Tim Vaughan, who succeeded him as editor.
"That ambition for what the newspaper could be, what it could achieve, was the mark of a real leader - and it still lives on in the success of the Irish Examiner almost 30 years later," he added.
"I will remember Brian for his wicked sense of fun and that wonderful roguish smile of his - and the kindness and generosity he showed to many people," Mr Vaughan said.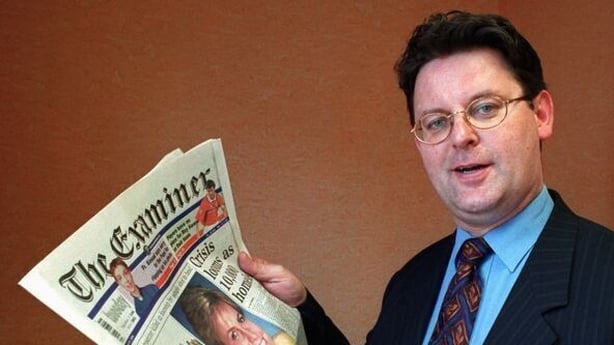 Current Irish Examiner editor Tom Fitzpatrick said Mr Looney joined the paper at a time of huge ambition.
"In his time as editor, Brian Looney set high standards and had the ambition that the newspaper he led be the best in Ireland," Mr Fitzpatrick said.
"It was that ambition that is shared by staff today and continues to set the tone for us all, more than 180 years after our first newspaper was published," he added.
He said Mr Looney would be remembered as a man of wit, warmth and dedication.
Mr Looney worked previously as a reporter with the Limerick Weekly Echo, the Irish Press and Irish Independent.
He lived in Cork city and is survived by his brothers Michael, Aquinas and Ivor, sister Mary and step-mother Joan.
His burial will take place on Thursday after Requim Mass at midday at the Church of the Most Precious Blood, Clogheen, Cork.