COPE Galway saw a sharp increase in demand for its services last year, according to the latest figures.
The organisation's annual report for 2021 reveals that almost 3,000 people were supported by the charity across homeless, domestic abuse and senior support services - an increase of 10% on the previous year.
A significant amount of resources went to help families and individuals who were homeless or at risk of losing their home, with 1,316 people receiving support.
Of these, 994 were adults, 322 were children, 119 were families and 814 were single people, whose numbers were up by over a third on 2020.
COPE Galway's CEO Michael Smyth said: "Unfortunately we are fast approaching the high levels of family homelessness we saw locally pre-pandemic.
"The figures represent a 10% increase on the numbers of men, women and families our organisation served the previous year, a figure that is unfortunately only going to increase as we face into the challenging social and economic landscape that lies ahead."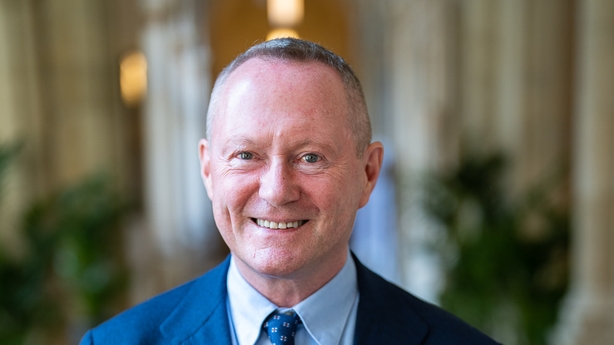 Michael O'Flaherty is Director of the European Union Agency for Fundamental Rights and an expert on human rights.
He says the focus now is on fundamental rights of service users, particularly the right to a home of their own.
In an online session with COPE Galway he will address how to challenge inequalities in society that lead to isolation for older people and that force women and children to leave their abusive homes.
COPE Galway's Head of Homeless Services Sinéad Carey said that by mid-2021 there was a growing stream of newly homeless families entering emergency accommodation due mainly to the lifting of the moratorium on evictions.
"We are in a perfect storm," Ms Carey said.
"The worsening homeless crisis has meant that there has never been as high a need for our services by the people of Galway.
"For people on lower or no income, for older people facing unaffordable rents, for a mother unable to leave an abusive situation with her children because they cannot find somewhere to live – the challenges of finding a home of your own seem insurmountable."
In 2021 COPE Galway supported 696 women and their children experiencing domestic abuse, an increase of 15% on the previous year
The report features a number of case studies across Galway city and county including one man named John.
He was living in his car for several months and using the lake in Loughrea to wash himself after struggling to find accommodation.
"Late in 2021, for the first time in my life, I found myself in need of emergency accommodation," he said.
"During the pandemic, I hit a few bumps on the road and my future suddenly became unclear and frightening."
John says COPE services have helped him turn his life around.
"After overcoming some tough challenges and gaining a little self-belief I am hopeful again about where I can take my life next," he added.
"My health, mentally and physically, has improved and I am back working part-time and feel much more positive about the future."