The first of four LED light installations to indicate a projected rise in sea levels as a result of storms have gone live at the Spanish Arch in Galway city.
The project is aimed at promoting conversations on climate change, and run along the Spanish Arch, Ard Bia in Nimmos, and along the Long Walk on the Claddagh Basin.
Other installations will be rolled out in Wexford and Dublin in the coming months.
Dr Zoë Roseby, Postdoctoral researcher in sea level change at Trinity College Dublin, told RTÉ's Morning Ireland that the visual light installations are made up of horizontal LED lights.
"What they'll see is horizontal lines of light that are 1.9 meters high above the ground level of Spanish Arch, and what that nine 1.9 meters represents is a storm surge in the year 2150.
"We're looking at storm surge that would be akin to Storm Eleanor, which many people will remember from January 2018, where there was flooding into and around the area".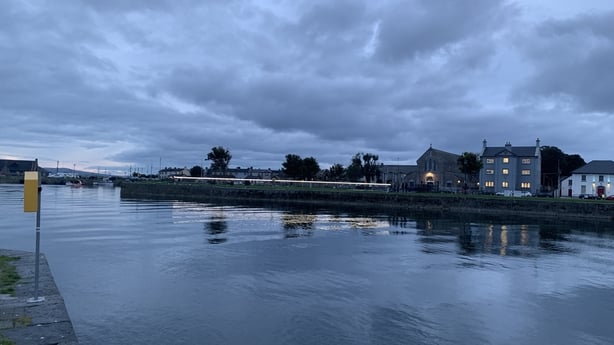 Storm surges occur when strong winds drive water in the direction of the coast, and impacts of these events are then exacerbated by high spring tides.
She said that the visual representation is important because it enables people to connect with the potential impact of rising sea levels.
Along with this, there will be a corresponding exhibition in the Galway Museum, information boards, an app and website for the project.
"We get all the data through when people get the numbers, but it's very hard to visualise what those values mean when we're talking about sea level rise in centimeters and meters," she said.
The installations were created by Finnish artists Timo Aho and Pekka Niittyvirta, and developed by the Línte na Farraige project team, based on emissions scenarios from the Intergovernmental Panel on Climate Change (PCC) Report AR6 and from Irish tide gauge data.
Línte na Farraige is a collaborative project, which includes scientists, local authorities, Algorithm, Native Events, and is supported by Creative Ireland as part of their Creative Climate Action fund.
"It aims to encourage individuals to consider how collective societal action can mitigate climate change and sea level rise, to ultimately inspire a more sustainable and resilient future.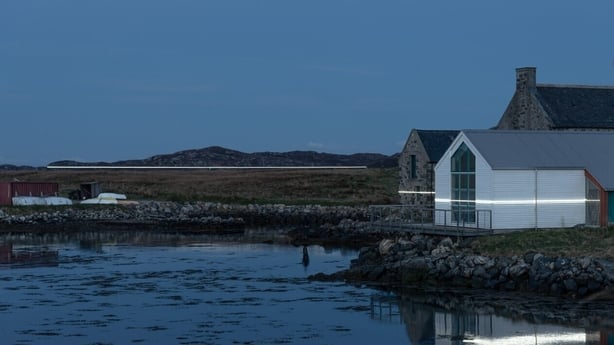 "We have chosen to place these striking installations in locations of local significance to promote cohesion and action among communities. The goal of the project is to demonstrate that the future is still in our hands, as the rate and amount of future sea level rise depends - largely - on our greenhouse gas emissions," said Dr Roseby.
Sea level rise and climate change
Sea level rise predictions used in this project are largely based on data in IPCC AR6, released in August 2021.
It classed extreme coastal flooding as one of the most threatening and hazardous elements which impacts on human life and infrastructure.
The data predicts a global sea level rise of 28cm to 1.01m depending on the emissions scenario by the end of the century.
Since sea levels were first measured in Galway in 1842, they have risen 25-30cm.