Its been a day for wellingtons and waterproofs at the National Ploughing Championships due to heavy rain that fell overnight and persisted through to lunchtime.
The poor weather may have deterred some people from attending but according to the National Ploughing Association, 70,000 people still came through the gates today.
That was short on the record crowd of 115, 500 yesterday and Tuesday's 91,500, but brings the total attendance for the 3-day event to 277,000 people.
It may be pouring but they're pouring in to #ratheniska too for Day3 #ploughing22 pic.twitter.com/ekUgupmf4p

— Joe Mag Raollaigh (@joemagraollaigh) September 22, 2022
Today featured the final of the World Ploughing competition with 25 countries competing including Ireland.
The results will be announced later this evening.
Details of 3 new farm apprenticeship programmes were also announced by Minister for Further and Education Simon Harris.
The apprenticeships in farm management, farm technician and horticulture are expected to be rolled out in the new year.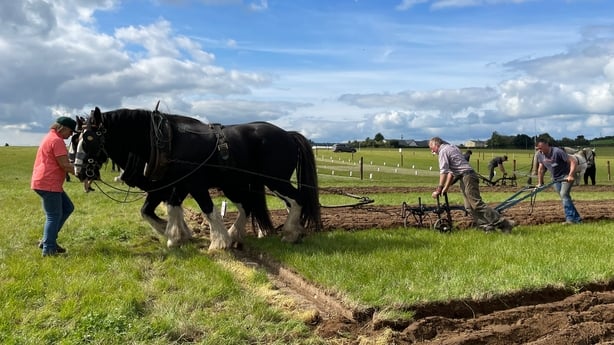 Meanwhile, EU Commissioner Mairead McGuinness said it it "not right" for farmers to feel like "villains" in relation to climate change and biodiversity.
The EU Commissioner for Financial Stability, Finance Services and the Capital Markets said farmers are feeling isolated and "blamed" for changes to the environment.
Speaking on RTÉ's Morning Ireland, she said despite public rows between environmentalists and farmers, "there is a lot of cooperation and good things happening at ground level".
"I don't like to see any sector of the economy feeling like the villains. If they feel like they are villains, I don't think that is right. We are all in this together."