A Galway theatre company that works with people who have intellectual disabilities is premiering a new play, written by one of its own actors.
Blue Teapot's production of 'Into The Dark Woods' is being staged at the Black Box Theatre.
It Is a modern-day fairy-tale, with princes, monsters and a search for independence all feeding into the story.
But the play itself is also the stuff of dreams and happy endings for writer Charlene Kelly.
She has been involved in a number of Blue Teapot productions on both stage and screen over the last decade.
Now, the Athenry native is enjoying the action from the other side of the curtain, as her friends and colleagues showcase her debut play.
Ms Kelly says that she dreamed of becoming an actor or a writer when she was a girl, but never thought that she would achieve both goals in such quick succession.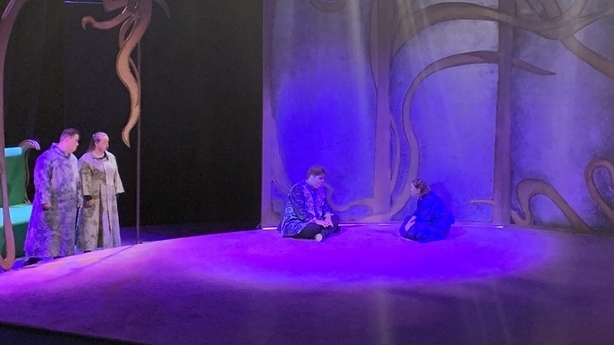 Her acting career has seen her perform in the award winning 'Sanctuary', a play that explored issues surrounding relationships and intellectual disability. It was subsequently made into a feature film, winning an audience award at the 2017 Galway Film Fleadh.
After taking part in a creative writing programme at the Blue Teapot rehearsal space in Galway, she was paired with a dramaturg, who assisted her in finessing the script for 'Into the Dark Woods'.
The hour-long show features several members of the Teapot's ensemble cast, including Kieran Coppinger, in the lead role of Prince Edward.
He details how all concerned have a huge sense of achievement, now that they have reached the point where their endeavours are hitting the stage for the first time.
"Charlene did a great job writing the play and the reaction has been amazing so far," he said.
"It means a lot for us to be able to perform and show people that we have the ability and talent needed for this."
During its initial run, audio description is being provided for patrons with a visual impairment and touch tours of the set will be available tomorrow.
These allow people who may want to have time to adjust to the geography of the theatre to be shown around the set, giving a tactile experience of props and costumes, ahead of the performance.
'Into the Dark Woods' runs until tomorrow evening, with matinee and night-time shows today and tomorrow.