New research published by the heart and stroke charity, Croí, shows that public patients can be waiting up to 18 months for an echocardiogram compared to one month for private patients.
The Galway-based charity cites an "acute" shortfall in trained Cardiac Physiologists across the country and is calling for the non-invasive test to be carried out in community hubs.
It is International Heart Valve Disease Awareness Week and one in eight people over the age of 65 are affected.
Croí is running a free stethoscope check in Galway as part of a public information campaign. Queues of shoppers lined up to get their hearts checked by cardiac surgeon, Dr Ronan Kelly.
Margaret Cotter got the all clear and was delighted with her results: "Everything is fine. I'm normal, thanks be to God.
"It's such a relief and I'll go home now and read up on heart disease in the leaflet I was given," she said.
The stethoscope test is a vital first step in early detection of heart disease and is followed with a GP referral for an ultrasound or 'echo' as it is called. But if someone is a public patient, they could be waiting a long time.
Marie Tierney has been on a waiting list since last March.
"I just went to the GP for a check-up and had a stress test done. After that it was recommended I get an echo and I am still waiting on that at the moment.
"You ring up and they say you're not even on the waiting list yet and even when you do get on it could be a year before you even get a call.
"It's kind of worrying when you're told you have to get these things done and yet the waiting list is a mile long."
Dr Kelly said: "The waiting times for echocardiographs are unacceptably long.
"The solution to fix that is within the workforce plan. We need to plan ahead with the technicians, have them trained and have a focused programme to make trained echo cardiographers available.
"This is the first step in diagnosing heart disease and then we can treat it within the hospital system.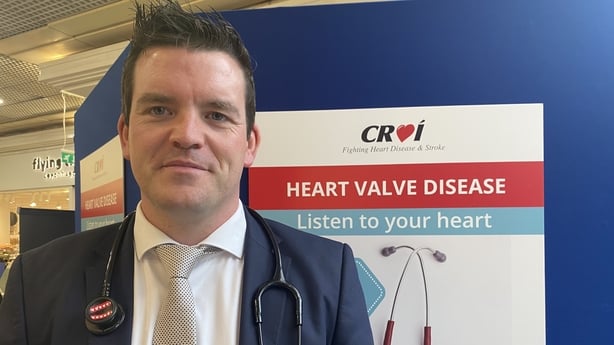 "The first step is the most important and we can't have people waiting six to eight months for a simple, non invasive test that can be done in the community.
"The procedure is best done within the hospital setting but we need more access for GPs to be able to refer directly to the hospital without an intermediary step."
Galway workers Vincent O'Connor and Seán Monahan dropped by on their lunchbreak for an update on their heart health.
Vincent had never had a stethoscope test before: "We know there are waiting lists and hospitals are busy so it's up to us to look after ourselves.
"I'm at the age where I need to stay active so we hopefully we come out on top and there will be nothing too serious to report," he said.
Seán is also mindful of the need to be proactive and has chosen to get private healthcare.
"I had an ultrasound a number of years ago and it detected one of my valves was leaking so I'm just following up on it now and I'm waiting for a stress test and an angiogram. I'm going private because if I was on the public waiting list I could be waiting 'til God knows when," he said.
According to the Croí report just 19% of public hospitals offer GPs direct access to echocardiography compared to 80% of private hospitals.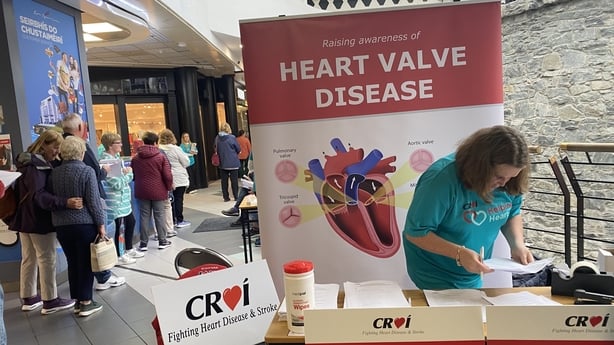 If a patient does not have private health insurance, they are referred to a cardiologist in a public outpatient clinic, before being referred to a cardiac physiologist for their heart scan. This can result in very long wait times.
Professor Jim Crowley, consultant cardiologist at University Hospital Galway and Medical Director of Croí, said: "Funding is not the issue here. There are jobs lying vacant that need to be filled and we can't fill them because we don't have trainees.
"There is a shortfall across the country with long waiting times in the public service up to 18 months to get a routine echocardiogram.
"So there will be losses for the patient and exacerbation of the disease which we may not pick up until later or at a more advanced stage. There are many vacant posts within the health services which we can't fill.
"This is due to the small number that are being trained in this speciality. We need to increase the number of under-graduate and post-graduate programmes that will allow the rapid training of cardiac physiologists to allow them do echocardiograms."
Prof Crowley is calling for echocardiograms to be carried out in community hubs across the country as part of the Government's Integrated Care Plan.
"I think the way forward is to have hubs around the country where these services can be provided and this will be part of integrated services and other services that will be provided as well.
"The advantage is that patients can be assessed for valve disease in their own communities instead of having to come to clinics.
"In fact many of these services could be delivered without a physician, but with consultant oversight which would free up services and reduce delays going forward in the future," said Prof Crowley.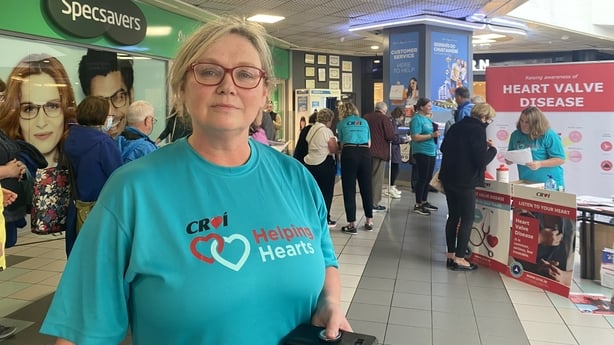 Community manager with Croí Annie Costelloe said: "Getting an echocardiogram is a very straightforward procedure, lots of people are referred as a precaution.
"Everyone is not going to have an issue but it's a standard procedure in ruling in or ruling out heart valve disease.
"Unfortunately if you are on a public waiting list, it's a case of when you can get it. But you can see from the queues here in Galway that there is definitely an appetite for taking control of heart health; being informed; and taking action with preventive care.
"It's about prevention, early intervention, and as we say with heart valve disease it's common; serious; but treatable."
Croí Chief Executive Neil Johnson said: "The results of this research demonstrate glaring inequalities in what is available to Irish patients.
"An echocardiogram is not a difficult procedure to carry out nor is the equipment overly expensive.
"This non-invasive and relatively straightforward test can detect a range of heart conditions but a delayed diagnosis can result in deterioration which limits treatment options or can even prove fatal.
"We know that there is a lack of awareness of this issue and there is a real need for Government to address this. We are now calling on the Minister for Health and the HSE to take action.
"Greater access to echocardiography tests and improved workforce planning must be part of a renewed, cohesive national cardiovascular strategy."