Clean-up operations are continuing in areas hit by flash flooding during heavy rain and thunderstorms yesterday evening.
Council staff in Co Wexford are assessing damage caused in the town of New Ross where more than 20mm of rain fell in little over an hour.
Fire service and county council staff were on the Quays in New Ross from late afternoon yesterday as a major downpour of rain caused flooding on local roads.
The town has been flooded on previous occasions because of overflow from the River Barrow, but last evening's flooding was caused by the water coming from the sky, not the river.
A number of properties were hit by floodwater, mainly basements in buildings on the Quays and other low-lying parts of the town. However, it is not thought anyone had to leave their homes.
Director of Services at Wexford County Council Eamonn Hoare said around 38 businesses and 30 homes in New Ross have been damaged in the flash flooding adding that it is "heartbreaking for people".
Speaking on RTÉ's Morning Ireland, he said the flash floods were "incredible" and described the hail stones that fell as "half the size golf balls", with up to 40mm of rain falling in an hour.
"The intensity of the rain, and in fact we think it could have been up to maybe 40 millimeters in an hour, nothing like that has happened in 100 years."
He said the hailstones "punctured holes in Perspex coverings".
Nothing could have been done in advance to prevent this flooding, he said, adding that works were carried out on the River Barrow works in 2016, which prevented perhaps three floods in the last four years.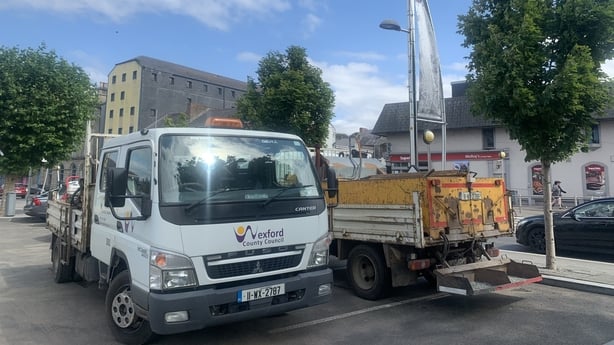 'It's devastating to look at the house like this'
Sisters Regina and Helen O'Neill have lived in the family home at Charleton Hill in the town for years and now face a period of uncertainty after their house was ripped through by flood waters yesterday evening.
With the rain in full deluge, water came from the top of their high garden, down to the yard and then through the kitchen, sitting room, downstairs bedroom and hall, with the result that nothing that was touching the ground floor can be kept.
"It's devastating to look at the house like this," their sister Elizabeth O'Neill told RTÉ News.
"Our Mom isn't long gone and we were treasuring everything we have belonging to her, and now it's gone. Gone in this flood. So, we're devastated really."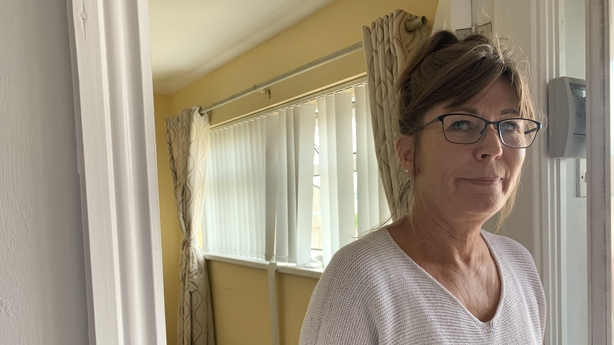 She described what happened on Monday evening as a "huge shock" which came out of the blue.
"You'd never expect it around here because we're all on a hill. So obviously something went wrong yesterday, whatever happened, flash floods, massive rain, I don't know, we're affected by it and a lot of other homes around here are affected. I can imagine the devastation of everyone that was affected by this yesterday.
"Here on the ground floor, everything has to go," Elizabeth said. "It [the water] was to waist-high. It broke the glass in the back door, that forceful coming in, and broke everything. The water reached over the kitchen counter-tops, so everything is gone, everything electrical, fridge, washing machine, the basics, all those things are gone. TV, sofa, everything has to be replaced, the floors, everything is gone."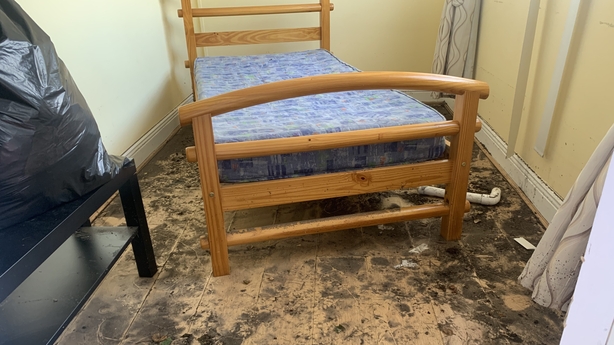 The O'Neills' home was one of the worst-hit of over 30 damaged, while at least 38 businesses in the town centre were also hit by floodwater.
Among the worst streets affected were South Street, Mary Street, North Street and Quay Street, where The Cracked Teapot has been trading for over six years, coming through Covid and other issues, but never experienced anything like what happened last night.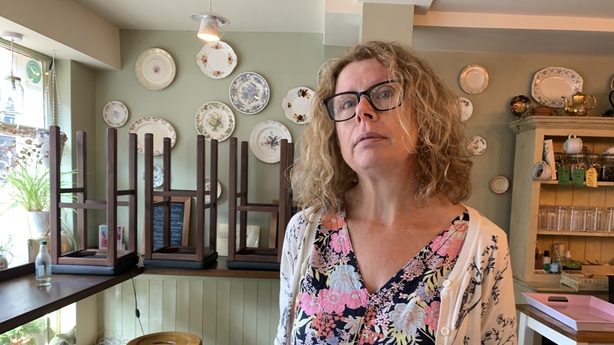 "It got very dark and it started to rain and within seconds the whole place was flooded," owner Tina Gaffney Saridakis said today.
"The street was a river, water started coming in. We blocked the door and then it started coming in the back. The back door comes into our kitchen so we lifted everything, water came in so fast and so quick, it was just a river... We had to sit tight, we couldn't leave, we had customers in and they had to stay as well. We had to stay until it subsided."
They are still assessing the damage but it will include ripped and buckled wood, dirt, damp, with the result that they'll be closed for some days while everything is sorted and repaired.
"Heartbroken," was how she described her reaction to what has happened.
'I'm here over 40 years and I've never seen rain like this before'
Business owners in New Ross described their shock at the ferocity and quantity of rain that fell in the Wexford town on Monday evening.
Eileen St Ledger or Christy's Laundry said that flooring will have to be replaced on the premises after it was severely damaged by up to six inches of water.
"I never saw anything like it in my life before. The water seemed to appear out of nowhere all of a sudden," Ms St Ledger told RTÉ's Drivetime.
"We'll have to replace all of the flooring. We worked till late last night cleaning up and my husband Christy went in at 6 am and got lots of the laundry re-done. We are open and working again," she said, before pointing to the unity of the business people affected in New Ross.
"The community spirit around the town last night was so good. Everybody was in the same trouble. You felt you weren't on your own," Ms St Ledger said.
However, she won't be making an insurance claim as it would prove prohibitive in the long-run.
"It's not an option. We'd be stuck with a huge premium for years because of it."
Meanwhile, Tommy Morrissey, manager of Molly's Super Valu, said that initially he was fairly relaxed when alerted to the flooding in the shop.
"I was sitting in the office and one of the girls came in and said, Tommy I think there's some water coming through the ceiling," Mr Morrissey told the same programme.
"I said to get a bucket and I'd be out in a second. But when I went out the ceiling tiles were starting to give way over the checkout. We were lucky in one sense where it happened because it wasn't near where our stock is.
"We took the customers out of the shop and when we had the place evacuated and when the rain had stopped coming in we started to clean up.
"I'm here over 40 years and I've never seen rain like this before. It looked like a freak hour or two of absolutely amazing stuff.
"The quick reaction of the fire brigade, the gardaí and Wexford County Council is a credit to them," Mr Morrissey said, adding that while some electrical work had to be carried out this (Tuesday) morning the shop opened for business as usual.