An investigation by the Health and Safety Authority (HSA) established that the two block safety system on a crane failed to work, causing a cable with a steel basket attached to snap.
This resulted in the tragic deaths of two men in Limerick city almost seven years ago.
Stonemasons, Bryan Whelan, 29, of O'Briensbridge in Co Clare and Timothy O'Herlihy, 36, from Castleisland in Co Kerry, drowned when the steel cage they were working in collapsed and fell into the River Shannon at Thomond bridge on 29 August, 2015.
They were carrying out maintenance work on the bridge that afternoon when the incident occurred.
A third man working on the same job managed to escape and was rescued from the River Shannon by Limerick search and rescue team.
As well as working in the steel cage, the two victims were also harnessed to the cage as per health and safety requirements, and were unable to be saved.
Representatives of two crane companies, Luke Carberry of Palfinger Ireland based in Tullamore, and Brendan Rainsford of Nationwide crane hire, have both pleaded guilty to breaches of the health and safety act, following an investigation by the HSA into the incident.
HSA inspector Dermot O'Brien said the safety mechanism on the crane failed to work as it was intended, resulting in overload on the attached cable causing it to snap.
CCTV footage obtained from the gardaí, showing the exact time the steel cage fell into the water, was played for legal teams in court.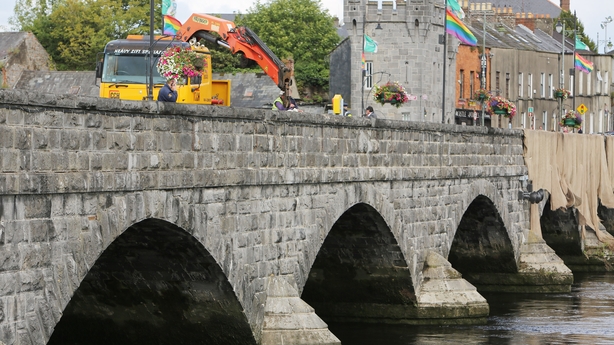 An examination and demonstration of the defective crane was also undertaken in the precincts of the court, so that Judge Tom O'Donnell could see what led to the tragic incident.
Members of both men's families were present for today's hearing at Limerick circuit court.
In his victim impact statement, Bryan Whelan's brother John Paul said the heartbreak and hysteria of that day is forever etched in their memory.
They have to "try very hard not to dwell on the distress and fear he must have suffered as he fought to survive that day".
In her victim impact statement, Tess Wigsten, partner of TJ Herlihy, said he was the father of Conor, who has special needs and was only three when his dad died.
Daughter Katie was only six months' old at the time and never got to know her father.
Ms Wigsten said she now stands alone and has no support to meet Conor's daily needs.
She said Katie, now aged seven, said if she could turn back time she would tell her dad not to take that job so he could be with them.
Ms Wigsten has moved back to her native Sweden since the tragedy.
Sentencing in this case has now been adjourned to 7 October.