Thousands of people are expected to attend a community circus performance in Galway tomorrow, as part of the city's arts festival.
The Life Line project involves local volunteers taking to tightropes and walking high above sections of the River Corrib.
Originally conceived as part of the Galway European Capital of Culture programme, the ambitious undertaking by Galway Community Circus has involved years of planning.
Hundreds of people were trained in the art of funambulism - or tightrope walking.
Now, they will strut their stuff on a network of taut wires that crisscross the Claddagh Basin and the River Corrib.
Ulla Hokkanen from Galway Community Circus One said the highwire spectacle was devised to promote both the skill and the mental health benefits that can be derived from it.
Ms Hokkanen outlined how the approach needed to walk on the wire is akin to a form of mindfulness, where practitioners focus on their breathing, poise and movement.
One of the participants, Ciara Moloughney, said she employs an internal monologue to reinforce her training and help her to devote all of her concentration to the task at hand.
She said that nothing compares to the feeling of exhilaration that can be derived from perfecting the walk and that, with practice, anyone could do it.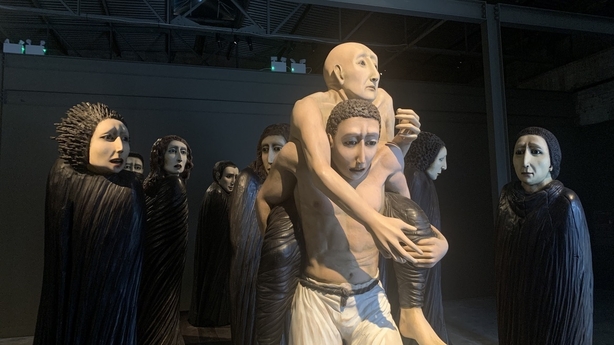 Tomorrow's free event forms the cornerstone of a bumper weekend in Galway.
Pixies play the a second night at the Festival Big Top tonight, with performances from Jon Hopkins and The Stunning on Saturday and Sunday.
Those gigs are among a number of shows that were initially planned for 2020 but postponed twice as a result of the pandemic.
Elsewhere, there are a range of visual arts exhibitions around the city, several theatrical presentations and the continuation of the First Thought Talks programme of discussions and debates.