Work is under way to renovate six houses for Ukrainian families in Mitchelstown, Co Cork, thanks to donations of almost a quarter of a million euro and volunteers from RTÉ's DIY SOS.
The homes are among 31 run by the Kingston College Charity Trust, which was founded in 1761.
Church of Ireland Bishop of Cork, Cloyne and Ross, Dr Paul Colton told RTÉ's News at One that his colleagues had been providing houses for people in need in the area for over 250 years.
He said that these will be used on a temporary basis for Ukrainians and will return for locals again when needed.
Bishop Colton told RTÉ's News at One: "Just before the pandemic a couple of houses became empty, then a couple more during the pandemic, but we didn't have the money to do them up.
"And then lo and behold the war in Ukraine started, the trustees said we can't just have empty houses, we need to find the money to do these houses.
"So I sent out an email, just testing the water, and lo and behold the money just started coming in."
A team of men offered to do up four of the houses, "word went out and everyone started to get inspired including RTÉ's DIY SOS," Bishop Colton said.
"The houses were uninhabitable," he added.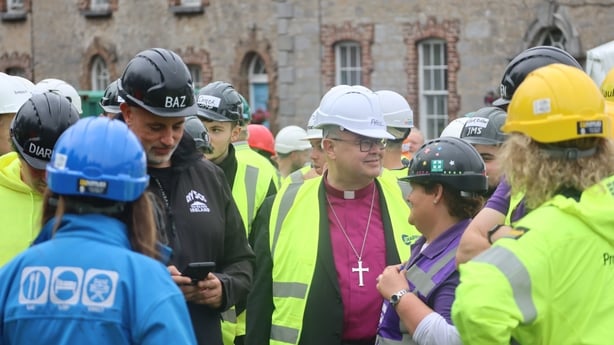 DIY SOS got in touch to complete six of the houses in nine days and hundreds of volunteers arrived this morning from across the country.
"Most important of all though I've just spent the last little while meeting the Ukrainian families and hearing their stories," Bishop Colton said.
The families will hopefully move in later this month and the trust plans to renovate the rest of the houses then.
"The families, I've met them, all women and children at this stage, some in very tragic circumstances, their neighbourhoods have been obliterated," Bishop Colton said.
"One whose son was killed in the fighting in recent weeks.
"The stories are heartbreaking. They need a home, they are our neighbours. And they will join our other Irish people who living here.
"We didn't ask people for this money, I just floated the idea. I didn't ask DIY SOS to become involved.
"They saw the story and they offered. It's a magnificent story of goodness really."
We need your consent to load this rte-player contentWe use rte-player to manage extra content that can set cookies on your device and collect data about your activity. Please review their details and accept them to load the content.Manage Preferences