A DUP local government councillor has been suspended from office for eight months for social media posts about Sinn Féin's north Belfast MP, John Finucane.
The sanction was applied by Northern Ireland's Local Government Commissioner for Standards.
A complaint was made after Councillor Marc Collins retweeted a post in November 2019 showing banners in Belfast's Shankill area which contained allegations against several members of the Finucane family.
They included John Finucane who was the Sinn Féin candidate for the Westminster election at that time, and his solicitor father, Pat, who was murdered by the UDA.
Mr Finucane also raised with investigators a tweet issued by Mr Collins which claimed that he "supports and promotes the IRA" and "isn't innocent by any means".
An investigation concluded that the DUP councillor, who sits on Mid and East Antrim Council, had breached a code of conduct for councillors.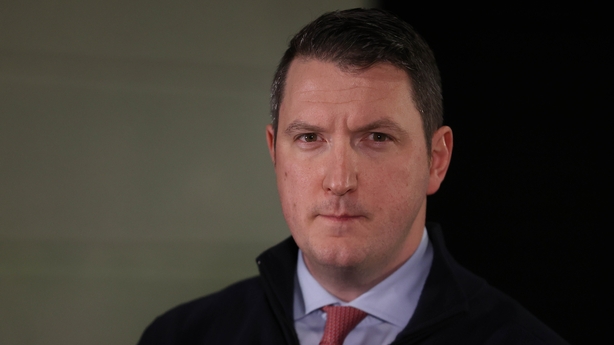 "The Acting Commissioner said that an eight month suspension was necessary to uphold public confidence in local democracy, reflected the severity of the matter, was aimed at preventing the respondent from any future failures and was intended to discourage similar conduct on the part of others," the report said.
Mr Collins said just because he had retweeted someone else's material did not mean he agreed with the content, but otherwise failed to co-operate with the inquiry.
Mr Finucane told the inquiry the banners were erected during the election campaign when there was a level of "toxicity" in north Belfast he had never experienced before, upon which he had to speak to his children about safety.
The banners attracted widespread political condemnation at the time including from then British secretary of State Julian Smith, who called them "utterly offensive".
The eight month suspension takes effect from now. The councillor has a right of appeal.