Soccer in Limerick is helping to break down barriers for children living in direct provision.
The underage section at the city's Shelbourne soccer club has built teams of mixed race and gender backgrounds, helping to understand and accept their differences.
It is a big week of training for the under-12s, as they prepare for a half-time display match at the Markets Field, when Treaty United play Athlone Town in the SSE Airtricity League First Division.
The team is made up of boys and girls.
For many, soccer is an outlet for fun and exercise. But it is a lifeline for others, like Safa Sharma, who is originally from Afghanistan, and Muhammad Nourredine, from Sudan.
Both are aged 11 and live in the direct provision system.
The sport has become a crucial outlet, helping them and their families to make friends and build community connections.
Safa said it helps him to forget his problems, that he focuses on the game, and he has made so many friends on the team.
It is the same for Muhammad. He said he loves the team and would like to train five nights a week if he could.
He said he lives for the team training and the games, and is always trying to improve.
Muhammad's mother, Fatima Ali, has just given birth to her fourth child.
The family are now living in a family hub at Roxboro in Limerick.
Fatima Ali said soccer has helped Muhammad by giving him an outlet for his pent-up energy. He is playing a game he loves and it helps him have a positive outlook on life.
"The soccer has helped Muhammad and it has also helped me and my family to build up friends and community connections," she said.
"Muhammad is very helpful to me, to the other children and to my mother, who are all living in the hub, and it's like he is the father of the house now."
Coach Barry Wharton has found that equality is the norm on the pitch between all the young players. He said other life lessons come as a bonus, without the kids realising it.
"Playing together as a team with different genders and backgrounds normalises things for them all," he said.
"They are all from various socio-economic and ethnic groups, and it's important that they see children who live in homeless hubs, who experience poverty or marginalisation, and they learn the lessons of compassion and want to help each other out.
"It also builds confidence and friendships where their difference and nationalities do not matter. Building the team like this has just been a lovely experience for me and for all the coaches and families."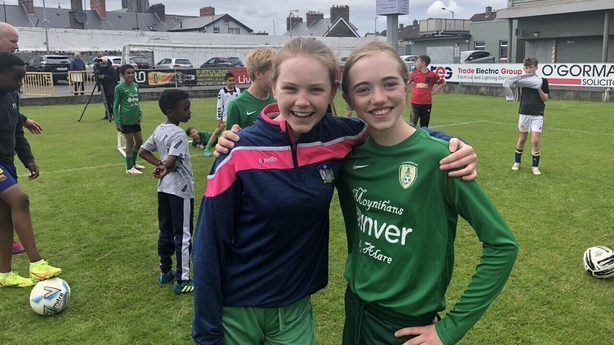 Young players Sophie Connolly, 12, and Ella O'Shea, 13, say they love to play the game.
"I like that there's a bunch of different nationalities and we all just want to play soccer, and our nationality does not define us. We just want to play soccer and it's not based on race," Ella said.
Niall O'Callaghan, who is Chief Executive of the Limerick Enterprise Development Partnership, which owns the Markets Field, said the stadium is rooted in its immediate community of Garryowen.
He said it acts as a catalyst for the integration of all who live around it, in particular those who live in direct provision in the area.
"We want to give people hope, to let children have and achieve their dreams ... That's what we're about," Mr O'Callaghan said.