The number of people walking in Dublin has risen in recent years, but there has been little increase in those choosing to cycle.
Research carried out for the National Transport Authority found active travel has significant economic, health and climate benefits.
Most people in Dublin would like to see more funding for cycling and walking infrastructure and for public transport, according to the research.
Researchers spoke to more than 1,000 people in the Dublin Metropolitan Area (which includes parts of Kildare and North Wicklow) for the Walking and Cycling Index 2021.
Of the respondents, 63% said they wanted more funding for cycling, 61% for walking and 65% for public transport. 38% said there should be more for driving.
There was also 77% support for the creation of more low traffic neighbourhoods while support for the closing of streets outside schools to motorised traffic during drop-off and pick-up times was at 60%
Caroline Bloomfield, Director of Sustrans Northern Ireland, the charity which produced the report said: "Sometimes we assume that everyone wants more space to drive, but actually people are saying no, we've seen the benefits of being able to walk and cycle safely in our own neighbourhoods and we actually want to see more space allocated to that."
The report highlights the benefits of walking and cycling which prevent 3,207 serious long-term health conditions, create €1.1 billion in economic benefits and save 93,000 tonnes of greenhouse gas emissions every year in Dublin.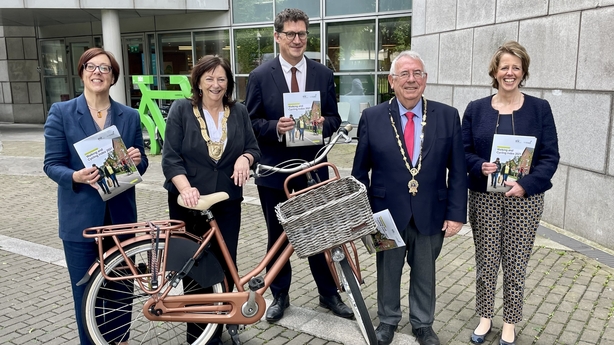 Dr John Legge, a doctor at St Vincents Hospital, features in the report.
He said he cycles simply because it is the best way to get around but he is also aware of the health benefits.
"Any exercise every day, just a modest amount, is hugely impactful in reducing your risk of all kinds of health conditions," he said.
"Strokes, heart attacks, high blood pressure, diabetes, all the problems we have when we get older can all be mitigated by just a little bit of daily exercise and the best way to do daily exercise is to integrate it into your commute," he added.
However, there is plenty of room for improvement as 194.4 million journeys of five kilometers or less are driven in the region every year.
If 80$ of those were made by walking or cycling this could save 64,000 tonnes of GHG every year.
Finola O'Driscoll, a senior programme manager with the NTA said she hopes improvements in infrastructure will encourage people to switch to active travel.
"We've seen a great increase in the pace of delivery of infrastructure in the last year or two, we've got 43 kilometres of cycle track, protected cycle track delivered in the last 18 months or so in Dublin and that pace is increasing," she said.
The responses to the survey done last year reflected the effect of the pandemic on people's travel patterns.
Walking was the only mode of transport which people reported using more than five times a week, with all other modes used not as frequently.
For cycling, the percentage who reported cycling at least once a week fell slightly from 25 to 24.
There was a slight drop in the number of men who cycle every week from 35% to 33%, but a significant rise in the number of women, from 14% to 18%.
Perceived safety, or lack of it, can be a barrier to cycling the lower cycling rates for women and it is hoped the improved cycle routes will encourage more to cycle.