Ukrainian refugees attending the opening of a new support hub in Cork have been told that the facility is about providing help and support for people who, not by choice, but through terrible circumstances, have had to come to Ireland.
"It is about supporting you in your hour of need," Deputy Lord Mayor of Cork, Councillor John Sheehan told the gathering today at the Blackpool Community Centre in the city.
Together with the Ambassador of Ukraine to Ireland Larysa Gerasko and the Ambassador of Poland to Ireland Anna Sochanska, he cut the ribbon to officially open the new Together4Ukraine integration and support hub, run by Together-Razem.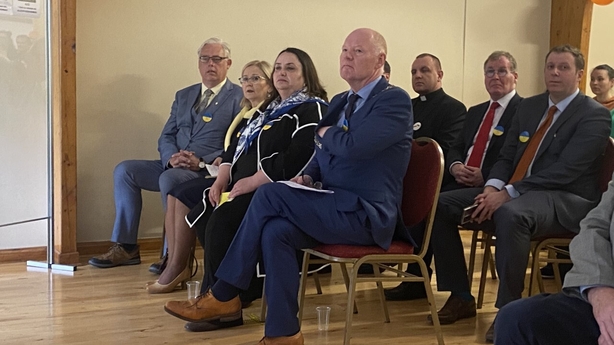 Ambassador Gerasko said she was very grateful to the Irish people and Government for all that has been done to support the 28,000 Ukrainian refugees who have been given sanctuary so far in Ireland.
"We have many things in common - in history and in culture - but it is beautiful that we are different at the same time and we really can enrich the culture of each other."
She said Ukrainians here face many challenges, not least language, but she knows they will work very hard to overcome these obstacles.
The new hub is the brainchild of Together Razem, a migrant-led organisation which supports Eastern European migrants in Ireland, and is supported by the Polish Embassy.
Polish Ambassador Anna Sochanska said the initiative is living proof that Ireland and Poland "have really passed the exam of solidarity and empathy".
Ambassador Sochanska said she was very proud of her compatriots living in Cork who have proven to be an integral part of Irish society and always ready to help people in need.
Some 200 Ukrainian refugees have already availed of the service and language classes.
Together-Razem board member Brendan Dempsey addressed the Ukrainian refugees directly saying they wanted them "to come here (to the new hub) to help each other, to console each other, because from the stories we've heard, you need it".
"Being 4,000 kilometres from home at the most western end of Europe, we know you won't be happy, but at least you will be safe.
"Anything you need, please just ask for it," he said.
The centre at the Blackpool Community Centre in the city will be open for 3 days a week initially but the hope is that this will be increased to five days a week.
As well as offering advice and practical support as well as English language classes, there are also open air facilities for children to play.