A conference on rural transport will hear today that mobility and accessibility are as important as local broadband and need to be made a priority to allow the creation of inclusive communities.
An international Integrated Rural Urban Transport Evolution (iRoUTE) event is taking place in Kilkenny and will hear from a series of experts on the issues and challenges facing people in rural areas when it comes to transportation.
Academic Brendan Finn said that the current moves to house refugees from Ukraine by local authorities highlights the need for more transport investment.
"These reports are telling us an inconvenient truth. In fact, two inconvenient truths," he said.
"The first inconvenient truth is that the Irish Government now considers large parts of the country fail their own test on suitability for human habitation, based on the simplest of needs: mobility, communication and somewhere local to buy food.
"The second inconvenient truth is that these are the sort of places where about one-third of all the people in Ireland live. That's about one and a half million people, our fellow-citizens and guests, who lack the most basic of services that the rest of the country takes for granted".
He called for "joined-up thinking" to ensure that "thriving, inclusive rural communities" across Ireland and across the continent can make a real contribution to the economic growth and social progress of Europe as a whole.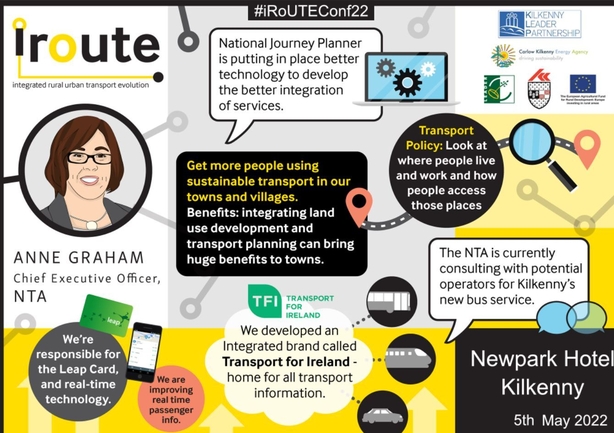 Conference organiser and CEO of Kilkenny Leader Partnership, Declan Rice, said urban hubs often get "the lion's share" of investment, with rural Ireland neglected.
He said that while the Government announced €57m for the Local Link transport service across 15 separate communities in October of last year, there is no integrated plan.
"A fundamental lack of joined-up policy means that local authorities and communities are all doing their own thing. This policy gap cannot continue and we need top-down frameworks such as they have in Flanders in Belgium, which facilitates, and makes room for the inclusion in that framework, of bottom-up community-led local initiatives.
"Local bespoke solutions that meet at least a basic level of service and have the capacity to grow need to be supported. We have all the building blocks, some of what we require is the use of information and communication technology that has already been proven to work in other parts of the world.
"If we are serious about creating so-called 'Smart Villages' and communities we just need to get the integration planning discussion going and make it work.
"Ireland has a unique opportunity to lead the way and to show how the future should look for rural shared mobility planning," he said.