The country's first ever purpose built cost rental housing development has been launched in Dublin.
The housing model provides rent at least 40% below market value to those who earn more than the threshold for social housing.
The 50 two bed apartments in Woodside, Stepaside are available to cost rental tenants for €1,200 a month which is up to half the going rate in the area.
Laura Merrigan a mother of two was renting privately and paying €1,900 a month.
Ms Merrigan says the difference is a huge saving for her having two children, working and attending college part time.
She says it means she has the independence to plan her life that she will be staying in the apartment for as long as she can.
The cost rental units are beside a development of 105 social housing units.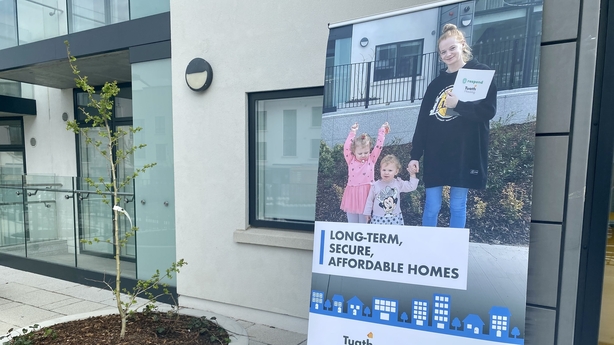 Fiona Egan of Tuath says cost rental is "transformative" to the rental market providing safe, secure long term accommodation.
Rents are calculated to just to cover the cost of construction and maintenance and the leases are for up to 70 years.
Catherine Martin TD Minister for Tourism, Culture, Arts, Gaeltacht, Sport and Media said the cost rental idea was one that the Green Party had been pushing to be introduced.
She said it was based on the 'Vienna Model' in Austria where rental schemes are open to all and tenants pay a rent determined by their income.
It means she said that no one can tell a person's income by their address.
In Ireland cost rental is limited to households earning under 53,000 a year but Ms Martin says the scheme will evolve.
The government has promised 2,000 cost rental homes a year until 2030.
And Barry Andrews MEP who attended the launch said the Woodside scheme had been commended by the European Parliament's Social and Employment Committee as an example of an innovative way to address to the housing crisis.