Over 7,600 people from 43 countries have signed a petition opposing a wind farm development near Guagán Barra in west Cork.
Last month, An Bord Pleanála overturned Cork County Council's decision to refuse Wingleaf Limited planning permission for a seven-turbine windfarm less than 3km from the iconic St Finbarr's Oratory in the Lee Valley.
A Judicial review is being considered by Coiste Forbartha Bhéal Átha an Ghaorthaidh – a community committee in the Muscraí Gaeltacht.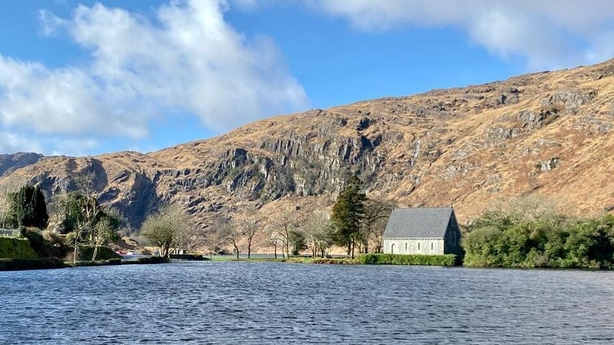 The owner of the Gougane Barra Hotel is disappointed An Bord Pleanála did not accept its own inspector's recommendation to refuse permission.
"You cannot make another Gougane Barra but you can find other locations for a wind farm," says hotelier Niall Ó Luasa.
St Finbarr's oratory which sits on Guagán Barra Lake is a hugely popular tourism attracting hikers, scholars, pilgrimages and weddings.
Wingleaf Limited was granted ten years to erect seven turbines up to 178.5m tall at Curraglass, Derreendonee, and Cappaboy Beg.
In its decision, An Bord Pleanála "did not agree that the proposed development would detract from the existing character of the area."
ABP added the development "would make a positive contribution to the implementation of Ireland's national strategic policy on renewable energy and its move to a low energy carbon future."
The Government under its revised climate action plan is aiming to deliver up to 80% of the State's electricity from renewable sources by 2030.
There will be more on this story on 7LÁ on TG4 at 8pm