RTÉ's former Western Editor, Jim Fahy, has been remembered at his funeral this afternoon as someone with an unrivalled capacity to listen to, and connect with, people.
Mr Fahy died at his home in Tuam over the weekend, following a short illness.
In a eulogy at his funeral mass in Tuam, his son Shane and daughter Aideen paid tribute to their father. They also thanked those who had cared for him during his recent ill health.
Mr Fahy was recalled as the "ears of the west", who had given space to the people of the region to tell their stories, over more than four decades in journalism.
Mourners were told of the joy he derived from spending time with his wife, family and friends, since his retirement in 2011, and of the special place he had in the hearts of those who knew him.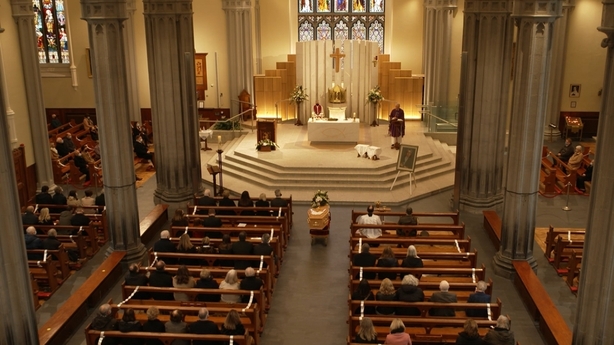 President Michael D Higgins was represented at the service by his Aide-de-camp, Colonel Stephen Howard.
Requiem mass was celebrated by Fr Pat Farragher and Fr Richard Gibbons. Many of Mr Fahy's former colleagues from RTÉ and the Tuam Herald came to pay their respects to his family and wide circle of friends.
His grandchildren brought gifts to the alter representing their grandfather's great loves in life - soil from his native home in Kilreekil in Co Galway, a microphone, as well as a photograph of a sailing boat which he crewed called 'Mayhem'.
In his homily, Fr Pat Farragher said that Jim Fahy left a rich legacy not alone with the voice he gave the west of Ireland but also in highlighting the plight of people suffering in poorer countries across the world.
The 75-year-old was RTÉ's longest serving regional correspondent, when he retired in 2011.
After starting his journalistic career with the Tuam Herald newspaper, Mr Fahy made the leap to broadcasting in the early 1970s.
Over the years that followed, his voice became synonymous with life in the west of Ireland.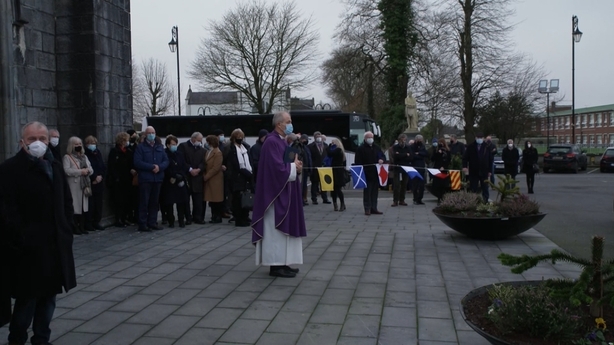 His 'Looking West' radio series featured stories from those who had witnessed life in rural Ireland, during the late 19th and early 20th centuries. He once described the task of tracking down interviewees as a "race against time", as he endeavoured to convince people to recall events of significance to them, or the places they came from.
For decades, on nightly television bulletins, he catalogued the twists and turns of life in the towns and villages of the region, covering tales of joy and heartbreak, despair and delight.
He also travelled further afield, often reporting on the lives of people who were impacted by famine, war and poverty.
In the early 1980's a series of programmes from London highlighted the issues facing the latest generation of young people to emigrate to Britain.
He travelled to Somalia with former President Mary Robinson in the late 1990s and was one of the first journalists from Europe to arrive in New York in the aftermath of the 11 September terrorist attacks in 2001.
Closer to home, he covered the campaign to build an airport in Knock; the protracted discussions surrounding the Corrib Gas project in North Mayo and moments of great sporting and social significance around Connacht over almost 40 years.
Following funeral mass at the Cathedral of the Assumption, Mr Fahy was laid to rest in Kilbannon Cemetry.
Additional reporting: Sinead Ní Neachtain