Hotel owners and publicans have welcomed the relaxation of restrictions around close contacts as it will help them keep their staff on duty.
However, the move is regarded as "a very small step" in trying to keep their businesses viable.
Dermot Kelly who is co-owner of the Shannon Springs Hotel in Shannon, and Chair of the Irish Hotels Federation in the Shannon region, has had to close his business over the busy Christmas and New Year period, because many of his 75 staff were identified as close contacts of confirmed cases.
"Staff were not getting the virus themselves, but many members of their families were and so staff were identified as close contacts and had to restrict their movements and stay away from work.
"In addition, there was also a lot of fear among staff about then contracting the virus, so it just became impossible to stay open."
"It was just very difficult, because this was the second Christmas that the Covid virus closed us," he added.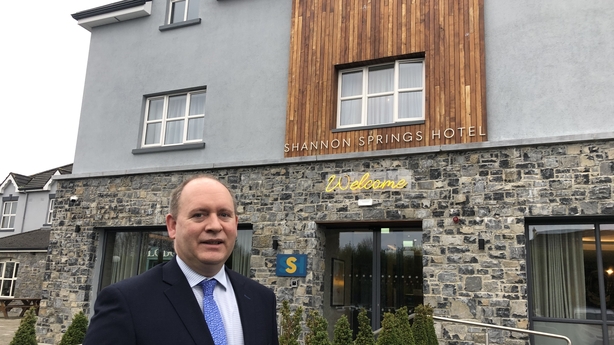 The relaxation of restrictions around close contacts which will mean those who are vaccinated and boosted will not now have to restrict their movements has been welcomed by Dermot, but he says it is just a very small step for their business which has seen what he describes as "monumental difficulties" over the course of the pandemic.
"It will help that staff who are close contacts will not be as restricted, but really the problem now is keeping them in work against the backdrop of the 8pm curfew. That is so restrictive for the entire hotel trade and we really do hope it can be lifted as soon as possible."
These sentiments have been echoed by publican Paul Flannery, who runs Flannery's pub in Limerick's Shannon Street, and who is also VFI chairperson in the city.
His family have been in the pub business since 1898, started by his great-grandfather, and his father and uncles and cousins now run a number of bars across Limerick city and county.
He himself, and a number of his staff, had to isolate over recent weeks because they were close contacts of others who had got the virus, and it was extremely difficult to keep the business going with the constant worry about who would fall victim to the virus next.
"The change in the rules over close contacts since midnight is very welcome, but it's just a small step in the right direction. The 8pm curfew has to change because there is no sense to it at all, and it's making many businesses in the pub trade unviable.
"Over Christmas customers were able to come out and socialise earlier, but now people are back to work and kids are back to school and they are just not socialising during the week at all. And even when they do, we have to shut shop at 8pm.
"We'd have a lot of older customers who have no social outlet at all now and it's a real struggle for them."
He added: "Our appeal to the authorities is that the curfew needs to change it as soon as possible, as we need to get our businesses open again."