Belfast's traditional continental market is back in action this year with exhibitors from throughout the European Union, despite concerns about the possible impact of Brexit and the Northern Ireland Protocol.
Some British traders decided not to take part this year because of the additional paperwork required, but those from continental Europe were not deterred.
There are 100 exhibitors from 28 countries at the market.
After a Covid-19 enforced break last year, this is the fifteenth time the market has been held.
Sjouk runs a Dutch stall called "The Copper Pan" which has been here every year, selling pancakes made to a traditional family recipe that goes back to the 1800s.
He was worried about the possible impact of Brexit and the Northern Ireland Protocol, but it was not an issue.
"Because Northern Ireland trades within the European rules, there was no problem at all," he explained.
"For trading for goods it's as it was before, the only thing was that we had to apply for work permits, which we got.
"We expected it to be harder, but it just went smoothly."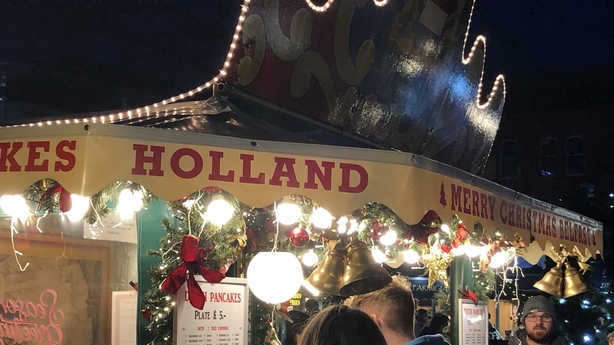 While many Christmas markets across Germany are being cancelled because of soaring Covid infection rates, German beer is flowing freely in a large tent in the middle of the market in Belfast.
The country's traditional sausages are also on the menu with several stalls.
Karl Whittle manages one run by Continental Cottage Limited, which has also taken part in the market every year. The company is owned by two Germans, but is registered in the UK.
The protocol, which gives businesses in Northern Ireland access to the European single market as well as Britain, proved a problem for its equipment, but not the produce.
"All of the produce is authentic traditional German. The produce is sourced in Germany and coming to Northern Ireland is like part of Europe, it's got the dual status, so there was absolutely no problem with the produce coming through," he explains.
"The issue we had was with some of the equipment which came from the UK and we had to do declarations, entry safety declarations, list everything, and then once it's arrived you have to get a code to come in or they won't let you on the boat.
"Once you arrive you then do a supplementary declaration which lists everything's commodity codes. It's do-able, but it's technical and it's a bit bureaucratic."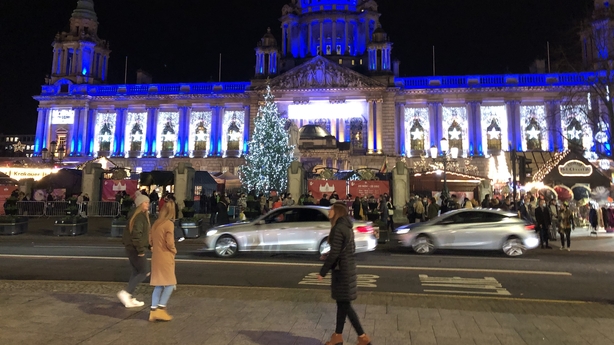 The market is drawing large crowds, despite concerns about the continuing high rate of Covid infections.
Along with a number of others in Britain, it is run by Market Place Europe.
Managing Director Allan Hartwell said Belfast has a broader range of exhibitors than the others this year because traders from continental Europe found it easier to travel as Northern Ireland has remained within the European Single Market.
"The trouble came when we tried to get the UK traders into Northern Ireland, that was much more difficult and much more bureaucratic," he says.
"It's because technically we're exporting, we're actually exporting from the UK into Europe because of Boris's border and that made it very difficult and the amount of paper work was very heavy.
"It's been much easier to get the continental traders here, but the counter to that with our other markets that take place in England and Scotland, is that we've not been able to get the continental traders there because again they're exporting.
"A lot of the Christmas markets like Manchester and Birmingham, that large German contingent you would normally find at them is very, very small this year because of the paperwork."
The market is due to run until 23 December.