A surge in Covid-19 cases in Limerick is leading to long queues at testing centres with the Health Service Executive urging people to book online as walk-in appointments can no longer be accommodated.
The call by public health officials in the Mid West comes as over 43,000 tests were carried out across the region last month, putting intense pressure on the health system
Queues all day long at the Ballysimon Covid test centre in Limerick are continuing tpnight with cars lining up bumper-to-bumper. There were 1,000 PCR tests carried out there every day this week alone.
The Mid West has conducted more tests across the region in recent weeks than at other time during the pandemic.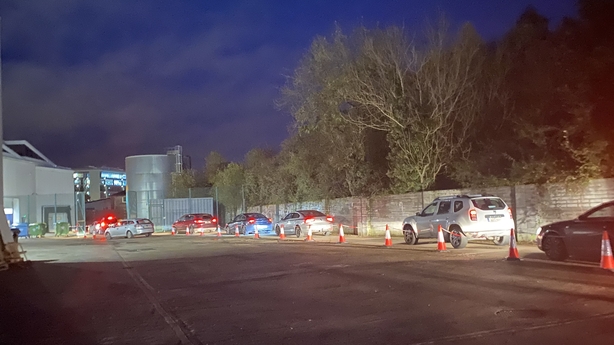 The rising number of coronavirus cases is having a knock-on effect on the emergency department and ICU at University College Hospital Limerick.
Dr John Twomey is a paediatric consultant there. He told RTÉ: "There are 41 Covid cases in the hospital at the moment of whom six are in intensive care. They are all adults but they are critically unwell.
"Covid hasn't gone away and this is the season for other viruses like influenza and it's doubly hard to deal with cases over the winter time.
"I cannot emphasise enough how important it is to get vaccinated if you still haven't come forward."
GPs like John O'Donoghue in Corbally said the pressure is "unrelenting" - particularly with the number of sick children presenting.
"In America they have started to vaccinate the 5-11 year olds and if that gets approved in Europe and NIAC [National Immunisation Advisory Committee] approves it here that will help a lot - because kids in a school wouldn't be spreading Covid or contracting it as much."
Maria Bridgeman is Chief Officer with the HSE Mid-West Community Care team.
"My message is simple. If you need a Covid test please book online and then you will be given an appointment which we ask you to strictly adhere to the allocated time.
"The system is under extreme pressure and walk-in tests are no longer possible."