The Taoiseach said it is terrible that children have to travel to Dublin to protest over the mica blocks problem.
A group of around 50 children from Donegal are campaigning outside the gates of Leinster House.
They are calling for a 100% redress scheme.
"For children to grow up in that situation is unacceptable," Micheál Martin told the Dáil.
The Taoiseach said the mica issue had ruined the dreams of many families.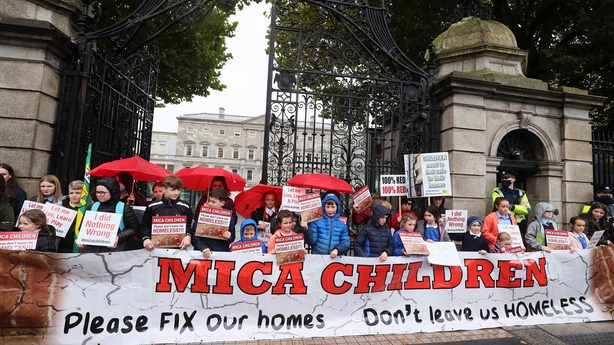 He said there will have to be "enormous provision" made for the redress scheme which will have to give people long-term guarantees and security.
"The scheme will be far more significant than the last scheme," he said.
Sinn Féin Leader Mary Lou McDonald read testimony from Donegal children whose homes are crumbing as a result of mica blocks.
Mary Lou McDonald said there are school classes in the county where almost all of the children are living in mica-block homes.
"These families wait and wait. Staring at cracks in their homes," she said.