A 96-year-old Galway Hooker has been formally relaunched after a major restoration project.
The boat will be used as a training vessel by the Port of Galway Sea Scouts.
Built in 1925, the gleoiteog has had several owners over almost a century. It was built by John Francis Reney at his boatyard at the Spanish Arch.
In 2009 it was bought by Claddagh man Nicky Dolan, who planned to carry out much needed repair work.
Following his sudden death in 2011, the boat was donated to the Sea Scouts. The restoration project aimed to honour the traditions linked to Hooker making, as well as remembering the life of Mr Dolan. He joked before his death that he was going to rename the vessel "Loveen".
Over the last decade, funding was secured, volunteers were recruited and painstaking work to recreate the gleoiteog - or miniature hooker - was carried out.
That effort culminated with the first voyage of the refurbished boat from Galway Harbour to Claddagh Quay this afternoon.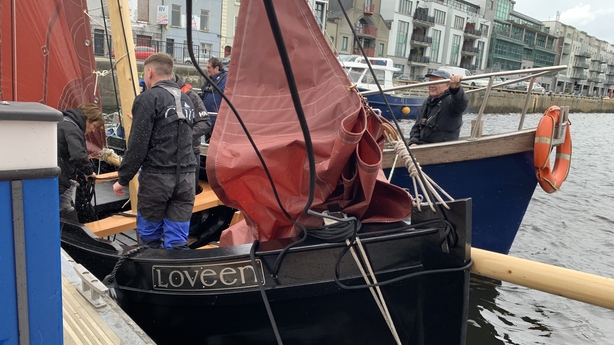 Members of the Port of Galway Sea Scouts and locals braved heavy rain to attend a blessing of the vessel afterwards.
Cóilín Hernon, who was involved in the project said it was important to carry on the local tradition of boatbuilding. His son, Éinde, spoke of how each and every element of the original hooker had been faithfully recreated to make the 2021 version of the gleoiteog as faithful to the original as possible.
The Galway Hooker Sailing Club, which coordinated the rebuild, hopes the initiative will lead to the restoration of other boats in the coming years.