Plans for a major transformation of 40 hectares of city centre land around Colbert Station in Limerick, which has the potential to deliver 2,800 mixed tenure homes, as well as commercial and public space, are to go to public consultation.
The development of the Colbert Station Quarter will see more than 40 hectares of public land around the station currently owned by Irish Rail, CIE, and the HSE developed into a new urban neighbourhood to deliver affordable and social homes as well as new pedestrian walkways, cycleways and public space.
The plan envisages eight new districts to be built around the existing Sexton street area, the Hyde and Careys roads, and the Roxborough, Ballysimon and Janesbora neighbourhoods, which are adjacent to the station.
The plan opens to public consultation until 11 November in which Limerick city citizens are invited to give their views about how the plan proceeds further.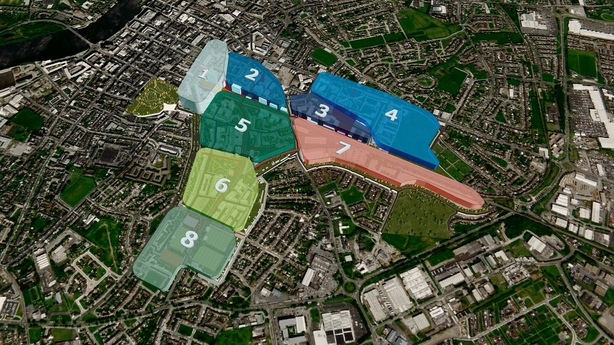 Land Development Agency CEO John Coleman said the plan is a key part of the vision for the agency outlined in the recently published Housing for All strategy, which highlights how major additional lands like those at Colbert can be developed.
"The LDA's objective is to ensure the delivery of housing and supporting development on underused state lands, and work on partnerships to unlock larger strategic areas which can truly transform a city", he said.
"Colbert station Quarter has the potential to deliver up to 2,800 homes in the heart of Limerick to establish an attractive and sustainable focal point for future development."
---
Read more:
'Unprecedented' €4bn State funding a year for housing
Land Development Agency plans 26,000 new social and affordable homes
---
Minister for Housing Darragh O'Brien, who is meeting Limerick City Council and other agency representatives in Limerick to discuss further progress on the project, said the recently launched Housing for All plan outlines proposals for the activation of underused public lands to deliver much needed homes.
"The LDA will not just develop land banks and build homes, it will also create sustainable communities and drive transformational change, and today's announcement is a perfect example of what lies at the heart of the LDA approach," he said.