Families of Irish Olympians gathered in Belfast today to show their support for loved ones competing in the Tokyo games.
It was the second in a series of tours to the four provinces by the Olympic Federation of Ireland for relatives who could not attend the games because of coronavirus restrictons.
There were cheers as Belfast Lord Mayor Kate Nicholl lit the Olympic torch for Team Ireland, and a big sigh of relief from her when it stayed lit.
Those gathered included the parents of Co Down gymnast Rhys McClenaghan, who this morning qualified for the Pommel Horse final on Sunday.
Mum Tracey and dad Danny were as proud as punch. "It was a brilliant qualifications this morning," said Tracey.
"It's looking really, really good for him in the final. It's so tough not being there, but I think we accepted it a long time ago, and to be honest Rhys will compete the same way whether we're there or not, it won't make a difference."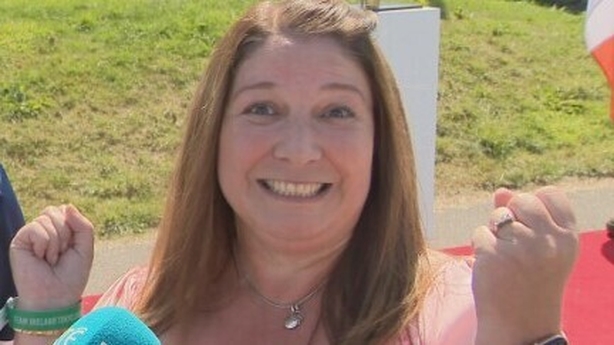 Asked if she had a message for her son, she said: "You nailed it Rhys! Well done, we're so proud of you, just keep doing what you're doing, be calm and be confident, you've got this."
The family of 1,500 metres competitor Ciara Mageean, from Portaferry in Co Down, were also there.
"We're so proud of you, and we know you'll do us all proud," they said in unison.
Mum Catherine added: "Relax, you've put the work in and you'll just reap all the rewards. Enjoy. You give your best all the time, that's all you can do."
Una Doyle, mother of rower Philip Doyle, was relieved he and Ronan Byrne managed to a place in the repechage tomorrow after finishing a disappointing fourth in their double sculls heat.
"They're finding the conditions tough enough, with the heat and the humidity and obviously they're not rowing at their best, but they hope to improve their game."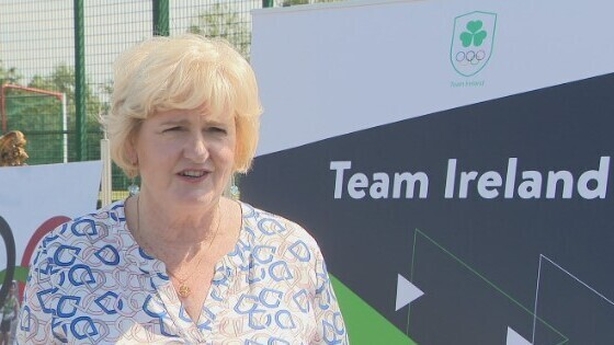 And her message for her son? "Love you very much Philip, and do your best tomorrow."
Relatives of triathlete Russell White were also at the gathering, with T shirts bearing his name.
"He's ready, the bike's ready, he's been in swimming and running and he's good to go," said his sister Rebecca Cook, who has spoken to Russell every day since he arrived in Japan.
Her message to her brother is simple: "Go and enjoy it, all the hard work's done, you can't change anything now, just go and have the best race."
Gathered more than 9,000 kilometres from the action, those attending the Olympic Federation of Ireland event in Belfast were all hoping dreams would come true.