A 13-year-old springer spaniel called Lucky and his 50-year-old owner had a lucky escape when they were rescued by the Castletownbere RNLI lifeboat after spending the night stranded on rocks off the west Cork coast.
Keith Cookman from Coolbawn in Co Tipperary set off in his kayak with Lucky at around 2pm yesterday.
Keith initially intended to paddle around Dursey Island but later decided to head for the Bull Rock, west of Dursey, as they were making good progress.
They landed on the Bull Rock at around 6pm, but when the time came to move on, Lucky would not come. At this stage, the tide had covered the rocky pier on the rock and conditions were more choppy.
"I tried to talk to Lucky, but she wouldn't come with me," Keith told RTÉ News.
He decided to paddle on and return for Lucky today, but on his way back to shore, conditions deteriorated as he approached the Calf Rock.
"That's where it got quite scary, because all of a sudden you would have this crest of water rising in front of you," Keith said.
He landed on the Calf Rock, but his kayak got washed away. Keith used his life vest and the spray deck from the kayak to wrap around him to try to stay warm.
He spent the night in the old lighthouse on the rock. He did not sleep and saw the dawn and sunrise, before he shouted for help to passing fisherman Timmy Murphy in the Dawn Hunter.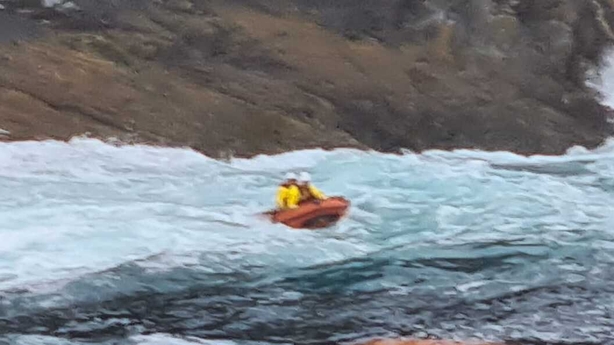 Timmy raised the alarm and the Coast Guard Coordination Centre in Valentia tasked Castletownbere RNLI lifeboat to respond.
The lifeboat, under the command of Coxswain Dean Hegarty and crew Marney O'Donoghue, Kyle Cronin, Mark O'Hare and David O'Donovan, arrived at the Calf Rock at around 9.30am.
They launched a small dingey and retrieved Keith, before travelling onto the Bull Rock and safely retrieving Lucky.
All are now safely back in Castletownbere.
"It's all good," said Keith. "I just had to relax, and be calm and have faith in God."
He paid tribute to the skill of the lifeboat crew: "They were fantastic - very encouraging and helpful and so re-assuring. And there was no problem going back for Lucky."
RNLI Lifeboat Operations Manager in Castletownbere, Paul Stevens, said: "This is not the first time that someone has been stranded on the Calf Rock. In 1881, when the top of the lighthouse was blown off and swept away in a violent storm, six lighthouse keepers spent 12 days on the rock prior to being rescued. Modern lifeboats, dedicated volunteer crew and good weather meant that this kayaker only spent one night there!"
Castletownbere RNLI Deputy Launching Authority, Felix O'Donoghue, said: "Luckily, other than being cold last night, neither Keith nor Lucky suffered any ill-effects from being stranded on two separate rocks overnight. Callouts like this highlight the need for anyone using the sea to carry a VHF radio to make contact in an emergency."