Portobello residents have called on Dublin City Council to remove eight portable toilets installed to facilitate outdoor drinking on the plaza.
The plaza was closed for weekends from 14 May as crowds of up to 1,000 people had been congregating.
Local residents were complaining about antisocial behaviour, including noise, litter, drug dealing and public urination on people's houses.
The plaza has now been reopened along with outdoor dining and the city council has installed temporary public toilets.
In a statement to local representatives, the Portobello Residents Association said they wanted the toilets removed "immediately".
The group added: "Discontinue saying that 'Portobello is part of party central'. It is a residential area."
It added that while opinion is divided locally, a large majority of residents are opposed to the public toilets, particularly those living closest to the plaza.
The association has questioned whether they can be legally installed without local consent.
However, Dublin City Council said in a statement that it had been mandated by central government to provide an outdoor summer in a number of public spaces and that Portobello Plaza is "one such place".
"We have great sympathy for residents and continue to implement measures to try to mitigate the effects of such behaviours, in conjunction with residents and An Garda Síochána. However, with the reopening of the plaza it was deemed appropriate to provide toilet facilities."
It said the toilets are serviced regularly and will be open until 11pm.
Meanwhile, a spokesperson for the OPW said the bandstand in St Stephen's Green will remain fenced off while an assessment is made of possible damage to the 134-year-old protected structure.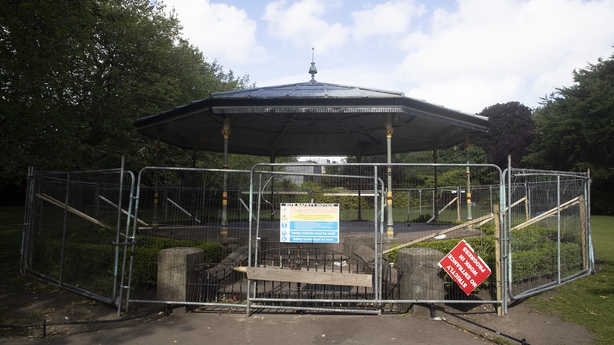 Outdoor drinkers had been climbing on the bandstand.
It is understood that a large crack was noticed on one of the supports, which led the OPW to fence it off.
However, crowds removed the fencing and again climbed on it with some filmed swinging from support trusses.