The skipper and six crewmen from the stricken fishing trawler the Ellie Ádhamh have been winched to safety by Irish Coast Guard helicopter Rescue 117.
An operation to tow the vessel to shore has been abandoned due to poor conditions.
The trawler lost power and steering 80km off the west Cork coast yesterday.
It was drifting for several hours in rough seas until the naval vessel LÉ George Bernard Shaw attached a tow earlier today.
The crew were airlifted by the Waterford-based R117 to Cork Airport. One of them has been brought to hospital for treatment. The crew was made up of Irish, Polish and Egyptian crew members.
They were rescued 50km west of Mizen Head at around 7pm, in sea conditions described as "horrendous".
There was a six-metre swell and winds gusting at between 74 and 92kmph.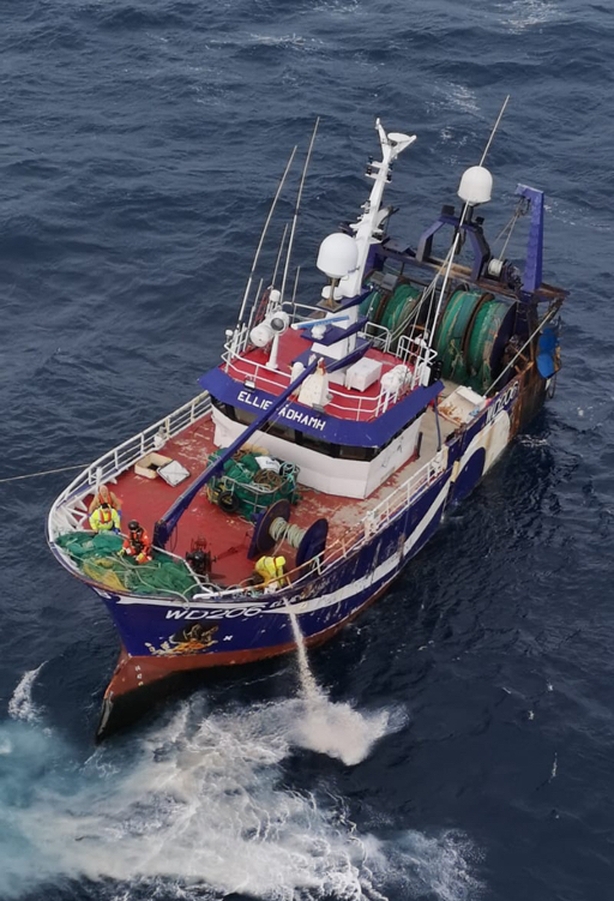 Castletownbere RNLI lifeboat and the Shannon-based Irish Coast Guard helicopter Rescue 115 were also involved in the operation, which was coordinated by Valentia Rescue Coordination Centre.
A statement from the Coast Guard said the LÉ George Bernard Shaw took the vessel in town towards Bantry Bay.
"In the highly complex, challenging and deteriorating weather conditions the tow operation was proceeding at slow speed towards Bantry Bay.
"During the afternoon and with a further deterioration in weather conditions, the pumps provided to the fishing vessel and efforts to stabilise the situation proved difficult.
"The fishing vessel began to list to port and take on further water, the decision was made to abandon ship. Life-rafts were deployed but in deteriorating weather conditions the crew were successfully winched onboard Irish Coast Guard Helo R117.
"Soon after the winching operations were complete, the tow parted from LÉ George Bernard Shaw due to heavy sea and swell conditions. The Ellie Ádhamh has remained afloat and LÉ George Bernard Shaw is standing by to monitor the situation and warn approaching traffic to the danger to navigation."
Additional reporting: Marian O'Flaherty, Niamh Nolan