A Galway based company has introduced on-site PCR Covid-19 tests for its workers.
All staff at the Galmere food production facility are tested once a week, and all visitors entering the premises undergo the process too.
Nasal swabs are taken by trained members of staff, and processed on-site, in around an hour.
Polymerase Chain Reaction, or PCR, tests are seen as the best way of detecting the presence of Covid-19. The HSE has said they are the most reliable tests available, because they look at the genetic material of the virus.
Galmere worked in conjunction with Kilkenny-based My Bio company to install the equipment needed to carry out the tests.
It ensures that staff are regularly screened for Covid and is seen as offering an extra layer of protection for both workers and customers.
Visitors to the Galmere facility in Ballybrit are swabbed in their cars and the tests are analysed in a dedicated on-site laboratory.
Some staff members have been allocated to carry out the swabbing, with others trained to analyse the samples.
The company employs around 70 people. Given case numbers nationally at present, all staff are being tested on a weekly basis.
Chief Executive John Casey said the move to provide in-house PCR tests followed a number of changes over the last 12 months to try and safeguard staff during the pandemic.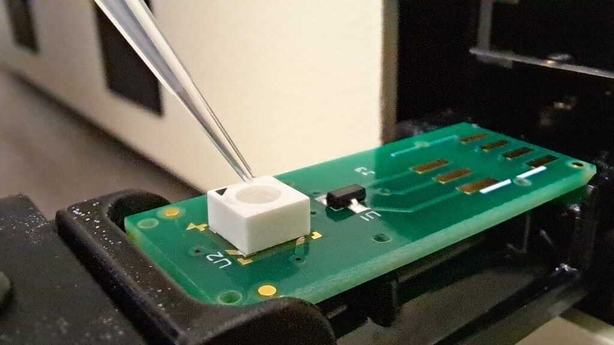 Shifts were altered to allow for greater flexibility and reduce the number of people on-site; mask wearing was introduced at an early stage and discussions on the testing have been under way for some time.
Mr Casey said he felt it was "incredibly important" for employers to do what they could to protect workers.
While there was a significant cost associated with the PCR test system, he said the reliability of the process made it worthwhile.
He said he believed the need for testing would remain "for some time to come".
A total of four tests can be analysed at a time.
The HSE said that while it does not have oversight of tests carried out privately, they must be conducted in line with national policy. This means any positive test results are reported for the purposes of contact tracing. Anyone testing positive in a non-HSE test centre is advised to contact their GP.
The equipment used by Galmere has been approved for use in the EU.
Ireland's Health Product Regulatory Authority undertakes market surveillance, to ensure the ongoing safety and performance of such in-vitro diagnostic (IVD) devices.