With over 200 thatched homes in the county, Donegal has one of the highest concentrations of historic thatch dwellings in the country but there are serious concerns that this iconic part of Donegal's heritage is disappearing.
The future of historic thatch is now at a critical point, according to Donegal County Council's heritage officer, Joseph Gallagher.
Since 2019 the council has been operating a thatch repair grant to help owners conserve and maintain a valuable aspect of the county's built heritage and a very important part of Donegal's tourism business.
However in that time they have found that owners are facing serious difficulties including a lack of materials, thatchers, and prohibitively high insurance costs.
Mr Gallagher said they "got to know some of the owners and custodians of our vernacular buildings who really are unheralded champions of our built heritage". 
Some grow materials to thatch their own buildings he said but there is an issue with a shortage of raw materials and while there are a small number of highly skilled thatchers in the county and some people who practice their thatching skills on a part-time basis, overall there is a skills shortage.
"It's surprising", he said, "that over a decade after the publication of the All-Ireland Traditional Building Craft Skills report by the National Heritage Training Group that highlighted the dearth in availability of traditional building skills, that little has been done to address the traditional building skills shortage".
Another very significant issue for owners of thatched homes is the availability of affordable insurance, Mr Gallagher said.
"If the insurance issue is not addressed, then the decline in the number of thatched structures seen in recent years will continue. 
"The lack of insurance companies in the Republic of Ireland willing to provide quotes for historic thatch and the inability to get affordable insurance in some instances means that new generations of possible owners cannot live under thatch because insurance is required in order to take out a mortgage. 
"Insurance companies in Northern Ireland, Britain and many other European countries seem better informed about historic thatch structures and can provide appropriate and more affordable insurance cover. It's not clear why the situation in the Republic of Ireland is more prohibitive," said Mr Gallagher.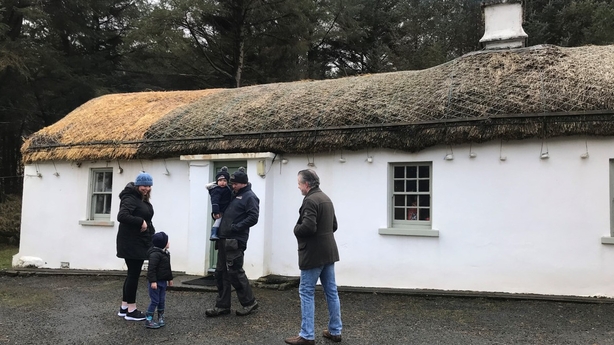 Collette Beattie, conservation officer with Donegal County Council, said historic thatch homes are extremely vulnerable. 
She said if they are left vacant they quickly go into decline and, she said we are losing them at an alarming rate.
Ms Beattie said we need to keep these homes maintained and people living in them and she hopes the grant will help in some measure.
She's encouraging people to apply for it to cover repairs to the eaves, the ridge, flashings around the chimney, holes, furrows, fixings, ropes, wire netting, the gable and the roof timbers or carpentry.
However, there is a very significant cost involved in maintaining a thatched roof and the grant, while welcome, only goes part of the way.
The Cunningham family own a beautiful thatched cottage in southwest Donegal which has been in the family for generations but it needs to be re-thatched every seven to 10 years.
Michael Cunningham, who lives in the house, said they were quoted €21,000 to re-thatch a couple of years ago so they are doing their best to maintain it themselves.
Michael believes that cottages like this, which tourists regularly take photos of, are as much a part of Donegal's heritage as Sliabh Liag and the nearby Glencolmcille Folk Village.
He said that the Government needs to step in to preserve them and keep people living in them.
"It's about our culture", he said, "and we should be looking after them, because once they are gone there is no coming back."