A planning row has emerged after permission was granted for a nine storey office building beside College Green in central Dublin.
The proposed building will be built on the site of the six storey Trinity Street carpark which the owners have decided to close at a time when more sustainable transport is being encouraged.
Conservationists are concerned at the effect of the modern design in an architecturally sensitive area and particularly its effect on the Pen Shop Corner.
Bashview Ltd, owners of the carpark, received planning permission for a nine storey office block to replace the 171 parking space facility.
Dublin City Council granted permission even after its own planner expressed concern at the height and suggested it should be one or two storeys lower.
An Taisce has lodged an appeal with An Bord Pleanála, pointing out that the developer was twice advised by the planner to make the building smaller.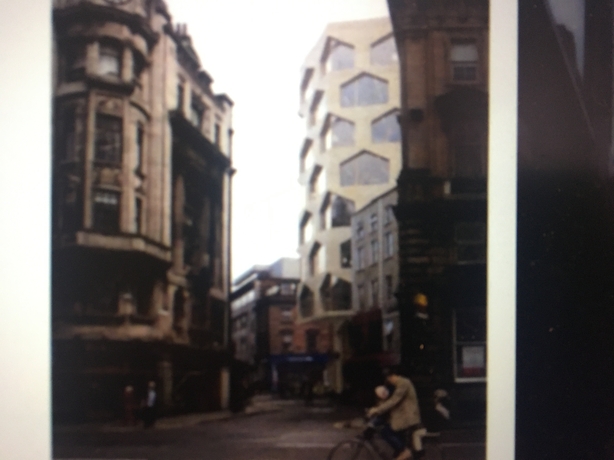 "In an extraordinary act of defiance, the applicant ignored this on both occasions and resubmitted the nine-storey plans," it stated.
In its submission, An Taisce said that the nine storey building - located beside existing five and six storey buildings - would "destroy" the relationship between Dame Street and the smaller side streets to its south.
The city council granted permission despite earlier concerns after photomontages submitted by the applicants showed no long range visual impact.
In its report, the city planner stated that the design is "very much a modern office building" and that "the building's contemporary façade treatment will likely create interest and may spark debate regarding its modern and assertive design". 
The planner added that "the proposed building will, however, likely bring activity and likely redefine and significantly improve the streetscape along Trinity Street, Andrews Lane and Dame Lane". 
The city council's decision states that work should not commence if there is an appeal to An Bord Pleanála.