Travel restrictions continue to be flouted in Kerry, Wicklow and other popular hill-walking areas this weekend, despite appeals by rescue services and the gardaí to the public to stay within 5km of their homes in accordance with the public health guidelines.
Icy conditions on narrow upland roads and hills also made for dangerous conditions, gardaí warned.
Beaches from Kerry to Wexford were also packed with people from well outside their 5km zones, according to posts on social media.
Hundreds of people arrived on the uplands this weekend in Kerry - some from 50km and more away, it is believed.
Last week, after a dangerous rescue in icy conditions on Carrauntoohil, Kerry Mountain Rescue appealed to people not to climb mountains in the current icy conditions and to respect the 5km rule.
The team has scaled down its numbers to protect the health of members and those rescued.
Most hill-walking clubs, such as Cork Hillwalkers, suspended their organised activities in late December and have advised members of the guidelines.
However this weekend again saw large crowds on the mountains in Kerry.
Up to 100 cars ferrying hundreds of hill-walkers were parked along the narrow roadway to Mangerton Mountain.
Around a dozen cars blocked the woodland entrance, which is a primary access for emergency vehicles to Killegy House and the woodlands of the southernmost edge of the national park.
Killarney gardaí sent a patrol car to monitor the situation. However it is not known if fines are to be issued.
Large yellow Covid-19 signs warning walkers of the travel restrictions line the entrance to the routes on Mangerton and Killarney National Park.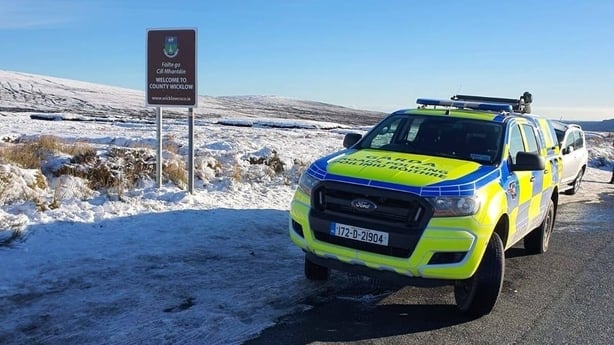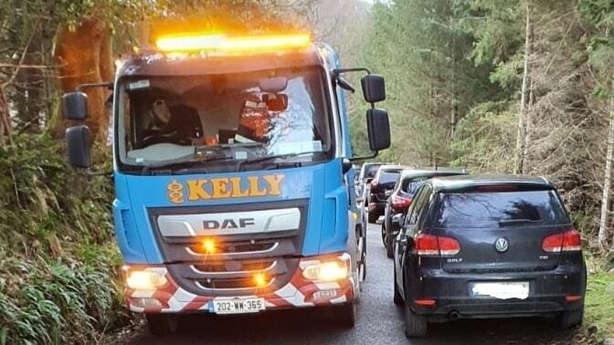 In Wicklow, gardaí mounted a major checkpoint operation warning about illegally-parked vehicles yesterday which would have prevented emergency services accessing several areas.
Tow trucks were being employed after a number of vehicles had to be towed yesterday.
A map showing the 5km zone around Glendalough and other popular areas has been posted on Facebook by Wicklow gardaí, as well as a copy of a fixed charge penalty notice for breach of the guidelines.
"Gardaí will once again be in the uplands today trying to control a repeat of the huge volumes of traffic that arrived yesterday, (Saturday)", gardaí said.