Plans for a 360 bed co-living development including a 14-storey block beside Dublin's Victorian Fruit and Vegetable Market are being opposed by local councillors and conservation groups.
The North City development would also involve an eight-storey block beside the historic St Michan's Church.
The application for four blocks of co-living clusters is being made straight to An Bord Pleanála as a Strategic Housing Development by a company called Fruitmarket Partnership.
The 14-storey block would be double the height permitted under the city's development plan but ministerial guidelines allows this to be overridden.
Fruitmarket argue that the 49-metre height is justified as the site is in the inner city on a site which is earmarked for regeneration and is close to Luas and bus transport links.It also says it is near the Technical University Campus in Grangegorman and the Mater and Rotunda hospitals.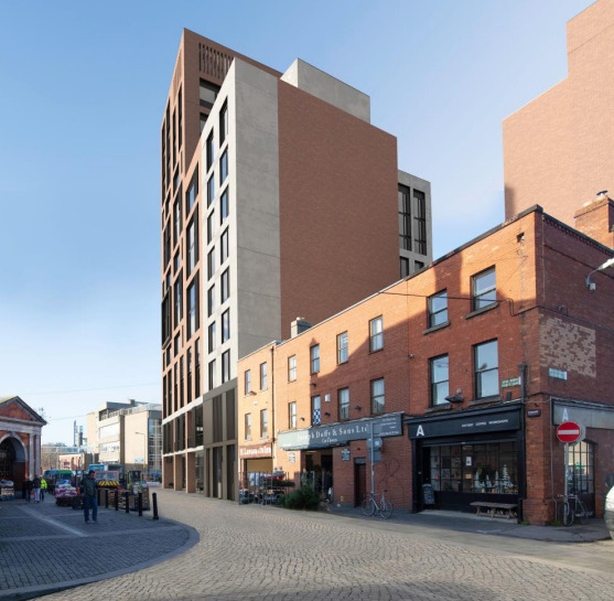 An information meeting is being held for local councillors next Monday but many are opposed, according to independent Councillor Nial Ring.
"Co-living and build-to-rent ideas are bringing nineteenth century tenement living into the twenty-first century. Covid-19 has highlighted how inappropriate this is," he said.
Meanwhile An Taisce has lodged an objection at the scale of the development in a historically sensitive area which includes St Michan's Park, Green Street Courthouse and the old Debtors' Prison as well as St Michan's Church.
"It is way too big and dense. Other apartment developments have managed to be built in the area and be sensitive to the surroundings," An Taisce Spokesperson Kevin Duff said.
The four co-living blocks would have clusters of bedrooms around communal kitchen and living areas with a ratio ranging from four beds to one kitchen in the 14-storey block on Mary's Lane to 14 beds per kitchen in the eight-storey block beside St Michan's.
Each block would have a roof garden, co-working area and basement bicycle parking while the 14-storey block would have a gym.
A decision is expected from An Bord Pleanála within three months.