Many well known scenic areas are becoming litter hotspots because of an "unprecedented increase" in domestic visitors, according to conservation and tourism groups.
A new campaign has been launched to tackle the damage being caused by camping and outdoor drinking since the easing of Covid-19 restrictions.
The campaign involves a host of groups including Leave No Trace Ireland, Fáilte Ireland, Waterways Ireland, Coillte and the National Parks and Wildlife Service who are worried about the damage being done to the environment.
Minister of State for Heritage and Electoral Reform, Malcolm Noonan, said some of the most beautiful landscapes in the country are being affected "since the outset of the pandemic, these sites have seen unprecedented levels of domestic visitors".
A new campaign has been launched to tackle littering from illegal camping and outdoor drinking at well known scenic spots. Conservation groups say some areas have become blackspots after a surge in visitors since Covid-19 restrictions eased | https://t.co/ffPqdZyScH pic.twitter.com/r6Mmxjs3VX

— RTÉ News (@rtenews) August 6, 2020
Ellie Berry of Leave No Trace Ireland said there has been an increase in overnight camping and drinking trips with people lighting fires and leaving rubbish behind.
She says there is a particular problem with disposable barbecues which are being lit on top of picnic tables and burning them or being left in the ground where they burn out a patch of forest floor. There have been a number of fires that have spread this year causing damage to gorse and to a tree plantation.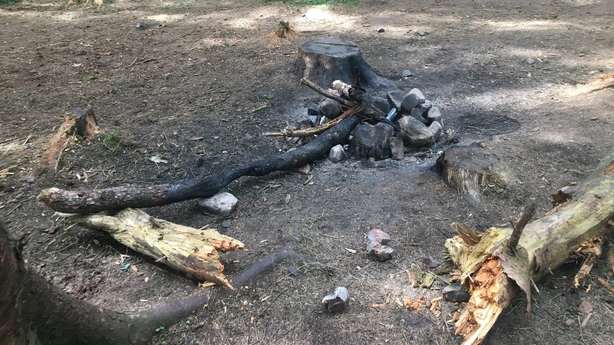 Wesley Atkinson of the National Parks and Wildlife Service said there needs to be greater awareness of environmental rules among those visiting the countryside.
Under Coillte's bye laws it is illegal to light a fire in a forest and under the Wildlife Act offenders putting vegetation at risk could face a fine of up to €1,000.
Those who want to 'wild camp' have to pitch their tent at least 400 metres from a road or forest track. It is only allowed on certain lands such as national parks, but rules vary between each park and need to be researched in advance he said.
Mr Atkinson said there has been a noticeable increase in visitors and litter this year and that campers are being found "where we never saw them before".
He said anti-social behaviour has resulted in around 12 garda callouts this year.