The Minister for Health has asked the HSE and the Department of Health to look at how guidelines concerning over-the-counter codeine medicines are applied.
The move comes after a recent Prime Time report examined the extent to which pharmacies follow the stringent guidelines for the sale of the painkillers.
Stephen Donnelly has said that he was "concerned at what [he] saw" in the report, noting that it was "clearly the case" that some pharmacies were not observing the guidelines.
To test how well the guidelines were being followed, Prime Time sent a researcher into 18 pharmacies – six pharmacies in each of three counties.
Not one of the 18 pharmacies visited adhered to all of the guidelines, which are designed to ensure that codeine medicines are used safely.
---
Read more:
Some pharmacies failed to adhere to codeine guidelines - investigation
---
Codeine, an opioid medication, is typically used in the treatment of mild to moderate pain. But long-term use can result in physical dependence and addiction.
Though medicines containing codeine are available over-the-counter under the supervision of a pharmacist, some have suggested that it should only be available with a prescription.
Under the current guidelines, customers should be questioned to determine if a codeine-based painkiller is the most appropriate treatment, and asked if they have tried an alternative non-codeine painkiller.
Among other things, they should also be reminded that taking the drug for more than three days can lead to addiction.
The Department of Health told Prime Time that it is "committed to working with relevant stakeholders in fully considering any policy changes that may be required regarding the regulation of codeine containing medicinal products".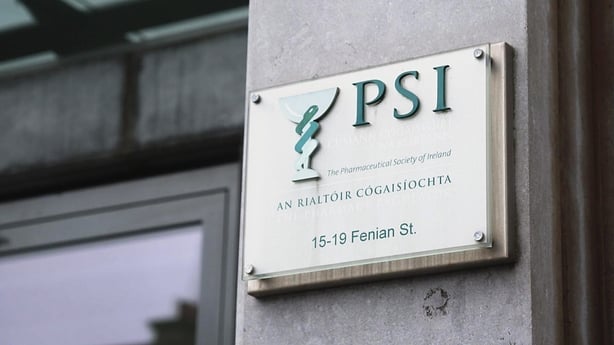 It added: "Any potential change to the prescription requirements for codeine containing medicinal products must be supported by sufficient evidence. Based on available evidence, we will consider taking any necessary further steps to support the safe and effective use of these medicines."
A spokesperson for the department also said it is working closely with the Pharmaceutical Society of Ireland (PSI), the pharmacy regulator, on this issue.
Mr Donnelly has said that the regulator and the Irish Pharmacy Union will both have a role to play in ensuring protocols for dispensing codeine are adhered to.
"The protocols are in place for a reason. We know that a lot of these medications can become addictive," the minister has said.
"We need to be very clear that the protocols are in place for patient safety, and they must be followed."
After reviewing footage secretly filmed by the Prime Time researcher, Dr Michelle Foley from the South East Technological University said that the footage is "very worrying".
Dr Foley has completed extensive international research into codeine misuse and dependence.
"There needs to be much tighter regulation within pharmacies if they are to continue to sell this product over the counter," she said.