Not one of 18 pharmacies visited as part of a Prime Time report adhered to all of the guidelines surrounding the sale of over-the-counter codeine medicines.
To test how well the stringent guidelines for the sale of addictive codeine painkillers were being followed, Prime Time sent a researcher into 18 pharmacies - six pharmacies in each of three counties.
The researcher was sold Nurofen Plus in each of the 18 pharmacies and bought 408 tablets over three days.
After reviewing secretly recorded footage from the small sample of Ireland's large number of pharmacies, an expert in codeine misuse said she is "not at all confident" that the guidelines are being adhered to.
Dr Michelle Foley, who has done extensive international research into codeine misuse and dependence, added that the footage is "very worrying".
"There needs to be much tighter regulation within pharmacies if they are to continue to sell this product over the counter," she told Prime Time.
Minister for Health Stephen Donnelly said that he will engage with the Irish Pharmacy Union after it emerged that not one of 18 pharmacies visited as part of a Prime Time report adhered to all of the guidelines surrounding the sale of over-the-counter codeine medicines.
"That's something that we would take very seriously. Those recommendations are in there for, for an important reason," Minister Donnelly said.
"We know that, when the recommendations came in, that the amount of codeine-based painkillers that was being given out did fall."
Mr Donnelly said his department will take the required action to make sure that pharmacies are complying with the guidelines.
Since August 2010, the Pharmaceutical Society of Ireland, the pharmacy regulator, has stated that all pharmacists must fully comply with its guidance on the safe supply of codeine medicines such as Solpadine, Nurofen Plus and Feminax.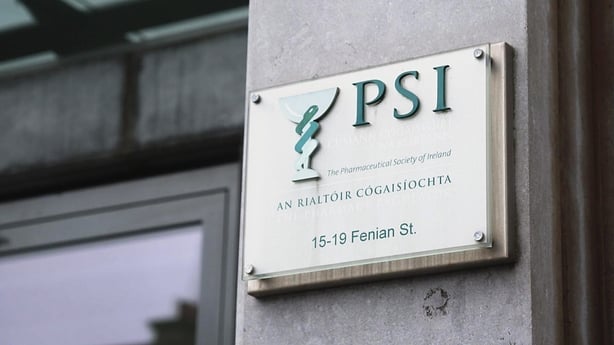 Dr Foley, who works at the School of Health Sciences at the South East Technological University in Waterford, said: "Codeine is an opioid medication that is used in the treatment of mild to moderate pain. It belongs to the same group of opioids, such as heroin. So, it is very addictive."
"It can be very damaging because they're combined with paracetamol, ibuprofen and sometimes aspirin. The effects of this can be very damaging to the liver, to the renal system, to the gastrointestinal system."
She said prolonged or excessive use can also cause overuse headache, dizziness, have cognitive effects, and cause psychological disturbances.
The guidelines were introduced in 2010 as "a direct response to overdose and poisonings that were being seen across the country in A&E departments", Dr Foley said.
Since then, pharmacists have been required to personally supervise sales of the medication; question customers to assess if it's the most appropriate treatment; and ask if they have tried an alternative non-codeine painkiller.
Pharmacists are also meant to warn customers that codeine combined with paracetamol or ibuprofen has the potential to be harmful in overdose quantities or if used for a prolonged period. Customers should be told not to take it for longer than three days.
"The three-day warning is really important because if the pain is unresolved within those three days, then the person does really need to go and see a GP," Dr Foley said.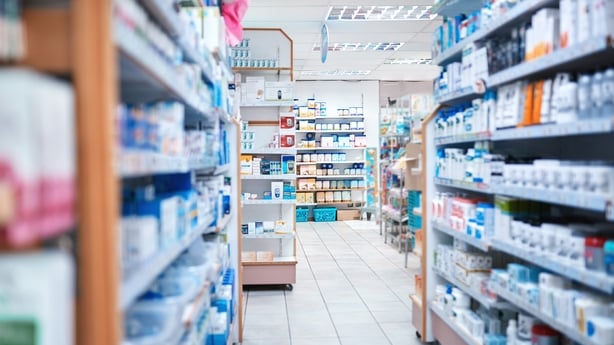 While 12 of the pharmacies visited by Prime Time's researcher gave the three-day warning, most did not explain why it was important to stick to this. In fact, only one pharmacy out of the 18 told her that codeine is addictive.
Three out of the 18 pharmacies did not give the researcher the three-day warning at all, and a further three said that it was for "short term" use only but didn't specify for how long.
Last week, a HSE National Patient Safety Alert was issued to all health service personnel warning about the risk of harm from codeine-containing products.
"The devastating personal impact of dependency cannot be overstated," the alert said.
In a statement, Nurofen Plus manufacturer Reckitt said it took both consumer safety and responsible use of its medicines "very seriously".
"We support all current requirements in place for the safe sale of OTC codeine-containing medicines," it said.
It added: "Nurofen Plus is indicated for short-term pain relief only which is included on all packaging and information leaflets as well as clear warnings on the front of pack regarding the risks of long-term and excessive use."
It noted that the medication "should always be taken responsibly and in line with the instructions provided".
Referencing the requirements, Dr Foley said a pharmacist should first begin by asking a customer why they are taking codeine, and if they had tried another painkiller first.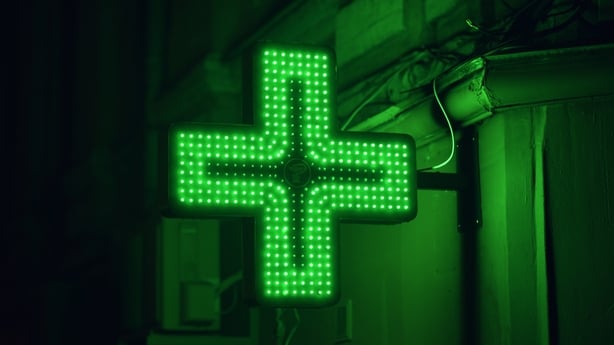 Despite the guidelines clearly stating that the pharmacist must be satisfied that codeine painkillers are the most appropriate treatment, just three of the 18 pharmacies asked why she needed to take Nurofen Plus in the first place. Only one asked if she had tried paracetamol or ibuprofen instead.   
In one pharmacy, the only advice the Prime Time researcher was given was to take two tablets up to three times a day, preferably after food.
So, just over two hours later, the researcher went back into the same pharmacy to see if this was a once off, or if she would be recognised. She had taken her ponytail down and had removed her jacket. 
She was sold a second box of Nurofen Plus on the repeat visit – with no questions asked or advice offered at all.
Dr Foley watched the footage from the second visit to the pharmacy, and said: "There's no attempt to implement the guidelines here whatsoever." 
After viewing the footage from all 18 pharmacies, she said: "There was some attempt in some of the pharmacies to adhere to the guidelines, but none of the pharmacies that we saw in that footage actually ticked all the boxes in relation to the guidance that has been supplied to them from the regulatory."  
She added: "It's very worrying … there needs to be much tighter regulation within pharmacy if they are to continue to sell this product over the counter."  
Watch producer Lydia Murphy and reporter Conor McMorrow's report on codeine addiction on Prime Time tonight at 9.35pm on RTÉ One and RTÉ Player.
If you have been affected by any of the issues raised in this article, please visit rte.ie/helplines.