After two days in Paris and three days in Disneyland Paris, Kellie Billings and her family made their way to Charles de Gaulle Airport on Sunday to catch their Aer Lingus flight home to Dublin.
But Kellie and her husband soon learned that the flight had been cancelled. After waiting in the airport for six hours with her young family, they ended up returning to their hotel and staying there until this morning.
Aer Lingus offered her a return trip today via London. But the thought of two flights and navigating their way through a busy Heathrow Airport with three young children saw them book their own direct flights home. They arrived back in Dublin this afternoon – two days later than they originally planned.
Describing the disarray at the airport in Paris on Sunday, Kellie told Prime Time it was "absolute chaos".
"We were in a lucky position that we were able to go back to a hotel, but there was people who weren't able to do that," she said.
"And there were young children and families just really distraught in the airport. I mean, it's just not really good enough."
Kellie and her husband missed two days of work because of the flight cancellation on Sunday. And her daughters missed their first school tour as they were stranded in Paris.
Stories like Kellie's are common as the aviation sector grapples with the return to peak business after the pandemic.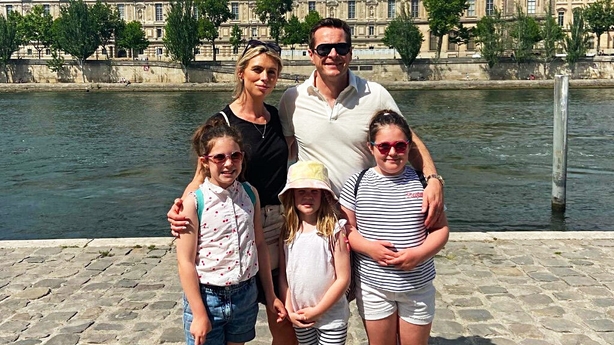 Amid a stronger-than-expected surge in demand and Covid-related work absences, thousands of flights have been cancelled by European airlines in recent weeks.
Aer Lingus was forced to cancel 13 flights in recent days due to air traffic control strikes in France, Italy and Spain as well as an outbreak of Covid-19 among its staff.
"This weekend, system pressures from ATC strikes, and ongoing issues at airports and among third party suppliers have regrettably necessitated the cancellation of some flights," Aer Lingus said in a statement.
"This pressure on the system has been compounded by a spike in Covid cases among our own teams in the last number of days," it added.
It's now four weeks since 1,400 people missed their flights amidst chaos at Dublin Airport.
Despite efforts to recruit more staff and reduce queues since then, the turbulence continues.
Travel writer Michelle Walsh Jackson told Prime Time that things have been "pretty awful" at Dublin Airport.
"It's a very stressful situation that was ultimately caused by bad planning because the daa knew what was coming this summer – and they were two busy cutting costs to balance their books over the last two difficult years."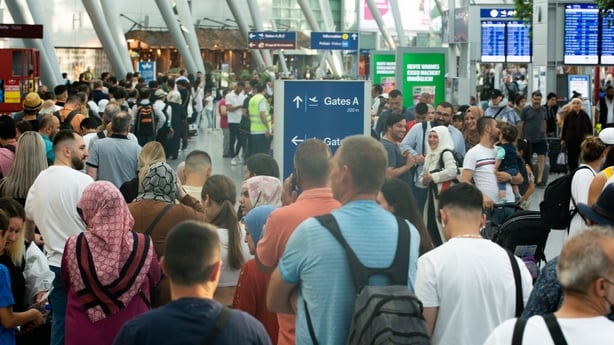 She said that conditions are "fairly woeful" for some security staff at the airport, some of whom are paid €14 per hour.
"You get the service you provide for, and if you're cutting back and everything is being cut to the quick, made cheaper and cheaper, unfortunately this is the situation you're going to get," she said.
On Tuesday, the Government decided to put the army on standby to help at Dublin Airport if there is an increase in Covid cases among staff.
"We were told a number of weeks ago that this was definitely not going to happen. And now we are being told that it is happening," said Cathal Berry, an independent TD and former army ranger.
"It's happening immediately and there's a great phrase in the military that says order, counter-order and disorder. And I think that is what we are seeing now. We are seeing disorder and chaos."
Mr Berry said it was an "inappropriate use" of the army.
"Our armed forces resources are already very meagre, and it is inappropriate to be using military forces to be assisting a commercial entity," he said.
Mr Berry also pointed to the remuneration of staff as a key reason as to why the airport operator cannot recruit or retain staff.
"Instead of adjusting their pay rates upwardly they have decided to ask for cheap or free labour from the Defence Forces, which is completely unacceptable," he said.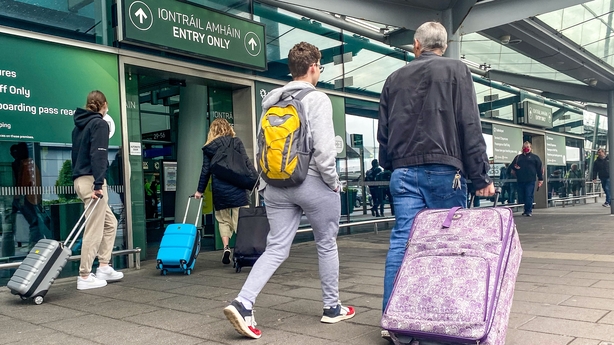 The Kildare TD, who spent 23 years in the Defence Forces, believes there are circumstances when the army should be called in – but this is not one of them.
"If it was a national emergency – absolutely no problem with that. But this isn't a national emergency. This is just bad management practices."
In a statement issued today, daa said any deployment of army personal would only happen if there was a Covid outbreak.
"As recently as last weekend, we have started to see the impact of the current rise in COVID-19 cases in the aviation sector, with 13 flights cancelled by one carrier last Sunday alone, citing an outbreak of COVID-19 amongst its staff as a key contributory factor," the daa statement said.
Dalton Philips, the chief executive of daa, told Prime Time that the plan was "a prudent contingency" in the event that 20% of staff at the airport were to get Covid.
However, he said that the issue of remuneration had not yet been worked out.
"I have no idea what we are going to be paying. Clearly, we won't be left wanting and we will be saying to the Department of Defence that we will be paying exactly what they would require for this service. I have no idea what that is, but we won't be left wanting," Mr Philips said.
As thousands of Irish people hope to enjoy their first foreign holiday in two years due to the Covid-19 pandemic, many are now fearful that fresh outbreaks and airport chaos will prevent them from travelling this summer, too.