For Elena Popova and her neighbours in the besieged Ukrainian city of Mariupol, seeing the first corpse in early March was the worst.
"People in my building were scared when they saw the first of the dead," Ms Popova told Prime Time.
A police car arrived and took the man's body away. Since then, the death toll has got so high that the police simply cannot contend with any more bodies.
Instead, she said, local people have had to take the dead to be buried in a nearby forest park.
Ms Popova last spoke to Prime Time on the day Russia invaded Ukraine. Since then, her life has been turned upside down. Her home city of Mariupol has been "destroyed and turned to a pile of ashes," she said.
She was one of those fortunate enough to escape the port city, where an estimated 170,000 people are still trapped. Ms Popova will never forget what she left behind in Mariupol.
"On 1 March, the electricity, internet connection, water supply, central heating was cut off. And then I fully realised what was happening," she said.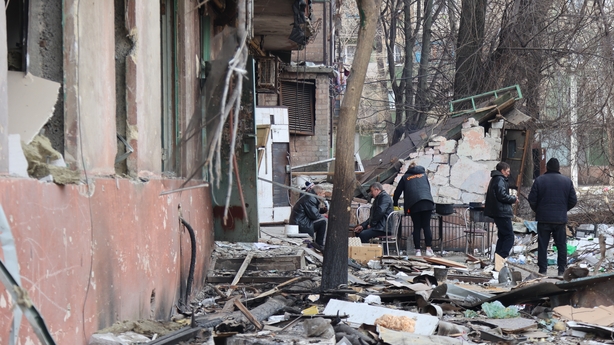 "I live on the fourth floor in a five-storey apartment building. So, I stayed in my apartment for 16 days. The shelling didn't stop for a single day."
Senior US officials have now warned that people are starving to death in Ukraine. Ms Popova said that food and water supplies were very scarce before she got out.
Without running water, there were queues of 200 people waiting to get water from a stream in the park beside her home.
"People started making fires in the yards in front of their buildings. They started cutting wood, collecting dry sticks or tree branches, and making fire to cook meals."
After spending 16 days in her apartment, Elena took refuge in the basement before going to a local school and waiting to find a way out of the city.
"There were no evacuation buses ... shelling, artillery, bombarding. It didn't stop. And people could escape only one way in their private cars at their own risk," she said.
After three weeks under siege, Ms Popova eventually found a girl with a car willing to take her on the risky journey out of the city.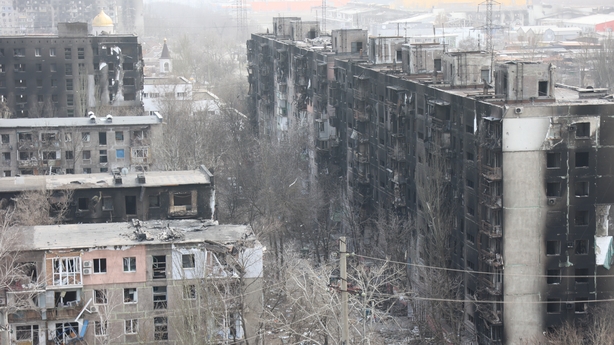 "We moved under fierce shelling. There were seven of us in the car, plus a dog. We saw a huge column of private cars moving to the first checkpoint. And alongside the lines of cars, there were people walking on foot."
Leaving the city, Ms Popova had to pass through checkpoints set up by Russian soldiers, where men were asked to strip to their waists to have their bodies examined.
"They were searching for pro-Ukrainian tattoos, which are typical for the soldiers of the Azov Battalion," she said, referring to a former paramilitary group that is now a unit of the National Guard of Ukraine.
As well as having their passports checked, Ms Popova said she had her mobile phone checked by the Russian soldiers.
"I had tried to make videos of what was happening but, when I was leaving, I had to delete them," she said.
They were told "to delete all the pro-Ukrainian posts and photos from our phones. And that's when I had to delete my photos and videos".
There are fresh hopes that civilians can be evacuated from Mariupol after the Russians agreed to open a humanitarian corridor into the port city, but similar hopes have been dashed before.
After a long journey, Ms Popova eventually made it out of Mariupol and across the border to the safety of Poland.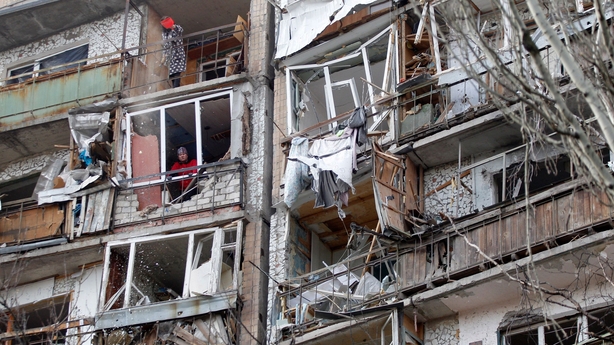 "I am actually in a safe place in a small city close to the border with Poland. I left Mariupol on 21 March and got here on 28 March," she said.
Olexiy Ladyka lives in Kramatorsk, a city in the Donbas region where, following a pivot in its military strategy, the Russians looks set to focus their efforts.
NATO Secretary General Jens Stoltenberg said Russian units are being repositioned to fight in the east, and Mr Ladyka wonders if his city could be the next Mariupol.
Kramatorsk is about 100km from the frontline, but the Russians have launched missile attacks on the city.
"Now everybody understands that Russians will focus on the Donbas region. Kramotorsk will be the field of battle for the next two to three weeks. We will have a lot of damages here. I think a lot of people will die," Mr Ladyka said.
Mr Ladyka had also spoken to Prime Time on the day Russia invaded. After the missile attacks on the city, his wife and daughter travelled to France.
Mr Ladyka is waiting to be called up to the army, and in the meantime has been working with a local defence group, where he has been getting supplies for vulnerable people and soldiers.
"I'm staying here in Kramatorsk with my mom. I'm worried about her, but she doesn't want to leave Kramatorsk without me," he said.
"I want my mom to get to the safe place. So, I think I will go to western Ukraine with my mom."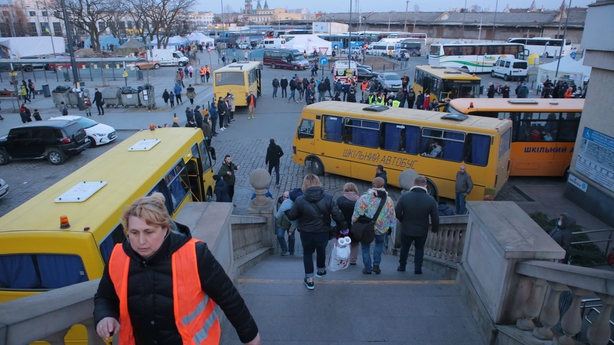 Working as a journalist, Mr Ladyka also fears for his safety if he stays in the region.
"It's dangerous to be here in Kramatorsk. If Russians come here, they will capture us," he said.
Mr Ladyka acknowledged that his city could become the next Mariupol, if the shift in Russia's military strategy is to be believed.
"But I hope it will not happen because our city is beautiful, our city is peaceful, and our army is strong," he said.
Meanwhile, over the border in Poland, Ms Popova is distraught about what has happened Mariupol.
"Many people said we will close our eyes, open them, and everything will be as it was before, but it didn't happen," she said.
For Elena, like four million other displaced Ukrainians, the nightmare continues.