One month after Russia brought war to Ukraine, the sounds of women and children fleeing their homeland are unmistakeable.
On Wednesday, the wheels on suitcases rattled along the roads of Moldova, as refugees, largely from the south of Ukraine, crossed the border at Palanca.
Victoria, a young woman from Kherson, a critical port city on the Black Sea, reached the small Moldovan village with her friend and small dog.
Holding her pet tightly, the woman told Prime Time that her boyfriend and grandparents remain in the city, which is now occupied by Russian forces.
In recent days, Russian soldiers have used tear gas in the city, Victoria said. They have started to shoot and beat people.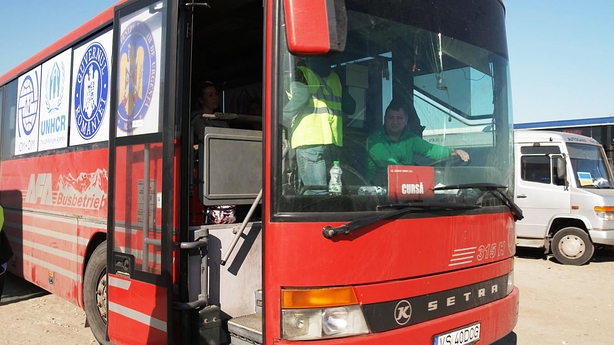 "They are trying to make people feel like they are in Russia. But they are not in Russia. They want to be in Ukraine. They are not Russian," she said.
Alina, Victoria's friend, said that, amid constant shelling, securing safe passage from the city was a treacherous task.
"All of my family are there. Only we could manage to get out. There is almost no way to exit," Alina said.
"Those who could left. The rest are still there."
In peaceful times, the Palanca border crossing is typically a hive of activity in both directions.
The major port city of Odessa in Ukraine is only 50km beyond the crossing, and much of Moldova's imports and exports would make the journey from the city. But that has all stopped.
While a steady stream of refugees arrive into Moldova, only a handful of people head the other way.
But, on Wednesday, an elderly woman walked by herself through the border checkpoint and into Ukraine.
A local man told Prime Time that such a sight is not uncommon.
While a number of people who live in Ukrainian border villages are now refugees in Moldova, they make the short journey back home every so often to feed the animals they left behind.
Per head of population, Moldova has seen the greatest number of refugees enter the country.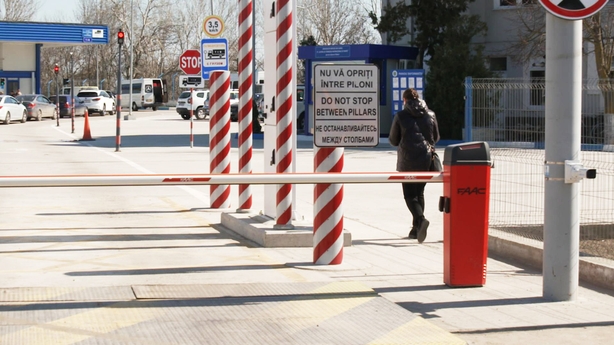 While the crisis has posed huge challenges for the tiny nation, one of the poorest in Europe, it has not dampened the goodwill of its people.
On Wednesday, a border guard carried a little girl towards a bus that would take her and her family to a new place that they will be forced to call home.
He smiled at the girl as he waited patiently to hand her back to her mother, who was laden down with bags.
Several volunteer groups, meanwhile, had gathered at the border crossing to hand toys and sweets to tired and bewildered children.
As more suitcases rolled along the road, some of the volunteers blew bubbles to greet children like Timothy, 12, who had just arrived from Odessa with his mother, Ludmila, his grandmother, as well as Kyril, his younger brother, who is almost two.
Ludmila told Prime Time that her husband, who remains in Odessa, insisted that they leave.
Timothy said that his father, who usually works in the furniture industry, is now helping to defend Ukraine from Russian advances.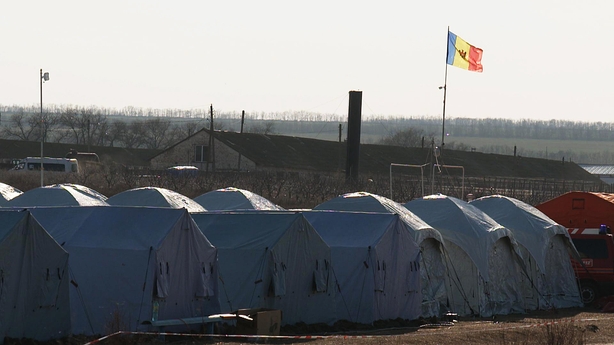 "He can't leave our country at the moment. They need policemen and military," he said.
If Russia managed to occupy Ukraine's third-largest city, it would leave the country landlocked, and would inevitably cause a further surge of refugees from south-west Ukraine into Moldova.
Timothy is not yet a teenager, but he has a clear message about Russia's attacks on civilian targets.
"Sometimes ships attack our beaches, our houses. They say they shoot military objects, but that's not true," he said.
One mile from the Palanca border crossing, authorities and NGOs have launched a massive logistical operation to provide humanitarian assistance to refugees.
A transit hub has been created in a large dusty section of land, from which buses to an even larger refugee centre in Romania are organised.
So constant is the flow of buses that workers spray water on the expanse to prevent the movement of vehicles from drumming up dust.
"Once these buses arrive in Romania, that centre will distribute the flow of refugees to countries like the Czech Republic and Poland and further throughout the European Union", said Igor Calancha, who oversees aspects of the transit hub's operations.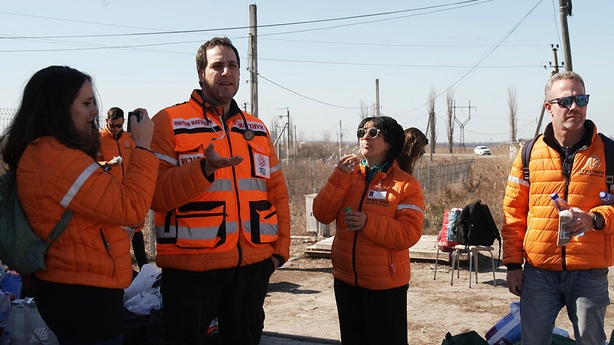 "This centre was busiest at the start of March. We had 2,000 or 3,000 people per day. Now the flow has diminished", he said.
Moldovan authorities nevertheless are ready for a further wave of refugees, should Russian continue its aerial bombardment of Ukrainian cities.
A short distance from the transport hub, tents house refugees who need to rest before any onward travel.
But most of the tents lay empty, waiting for those fleeing the war.
As the crisis enters its second month, the worsening humanitarian situation is Ukraine will undoubtedly test the resolve of its citizens. In Kherson, Victoria said, food and medical supplies are now running out.
"There is no local Ukrainian food, no medicines for diabetics, for epileptics, for people with heart disease," she said.
"Russian troops are trying to spread their food – but local people don't want to take it. That's how they protest."