Did you know that, if you hop on a Luas in Dublin, you're being watched in a number of different ways?
As well as fixed CCTV cameras on all Luas platforms, there are small cameras inside the saloon of each tram.
Security staff also wear cameras that can be switched on and off. Worn as part of the uniform, these devices are body-worn cameras, which are more widely known as "body cams".
"Luas security officers have been operating these cameras since 2009," Harry Seymour, who oversees Luas security services, told Prime Time.
"As soon as the technology became available, we were able to bring them into the system. We found them really, really useful, in terms of being that independent witness. The camera will capture exactly what happened, and the sequence in which it happened."
While body cams have been deployed on the Luas for the past 13 years, they are more commonly used by police forces across the world.
Body cams for gardaí in Ireland have been long promised, but are yet to be delivered.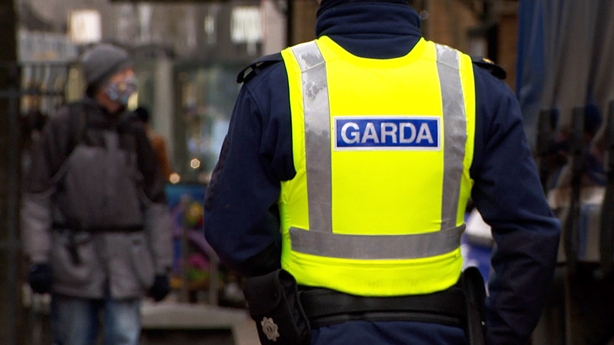 In fact, An Garda Síochána remains one of the few national police forces that has not rolled out body cams to the rank-and-file.
Legislation is currently before the Dáil to allow for the use of body-worn cameras by gardaí, but the precise circumstances in which such cameras will record has yet to be determined.
The Irish Council for Civil Liberties (ICCL) has expressed concerns about any widespread and unchecked roll-out of body cams.
Doireann Ansbro from the ICCL told Prime Time that the use of body cams in other jurisdictions has not deterred crime.
"They're not actually protecting police, they're not protecting victims, and they are not leading to fairer trials," Ms Ansbro said.
She noted evidentiary concerns in trials and pointed to the over-reliance of footage from the cameras.
The footage itself, Ms Ansbro said, cannot simply be treated as impartial.
"The police officer, of course, themselves, has complete control over what direction the camera is facing, when it's turned on and off," she said.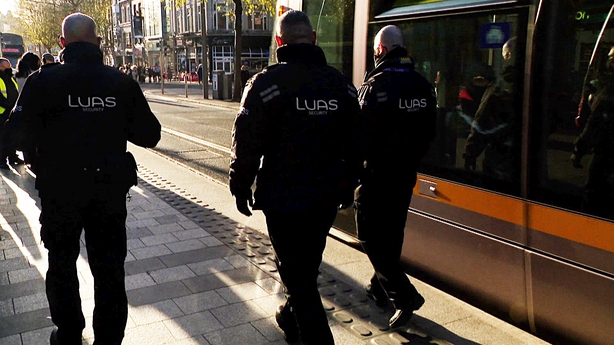 A body-worn video camera is a small device, about the size of an average hand. It can clip to a jacket or be worn around a police officer's neck. It operates by way of a simple up/down switch, one which starts and stops recording.
"Cameras have become such a staple in every sector," said Tim Lilleyman, of Belfast-based Pinnacle Response, a major manufacturer of video cameras for police forces and the private security sector.
But Mr Lilleyman told Prime Time that body cams are being worn by many different people who interact with the public.
"From the child road crossing assistant with the lollipops right up to special forces, and everything in between, body cams are being used."
A big question of course is: where does the footage go?
Mr Lilleyman noted that the footage recorded by his cameras is safely stored on the cloud for at least 30 days.
"The footage is first stored on the camera. When I dock the camera, the footage transfers to the cloud and it's a military-grade encryption," he said.
He said that, for GDPR reasons, a 30-day period of retention is the norm.
"Decisions have to be made as to whether the footage will be marked as 'evidential' and retained, or else deleted after 30 days."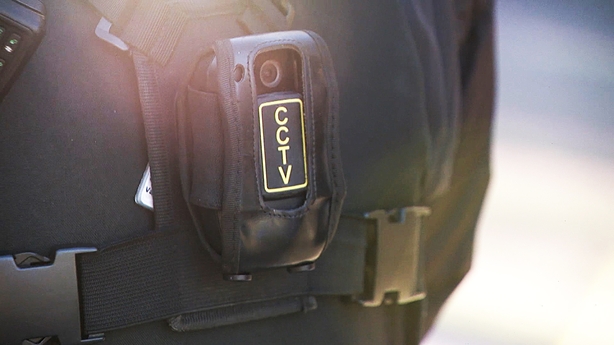 Rank-and-file gardaí have long asked for body cams. Both the Garda Representative Association and the Association of Garda Sergeants and Inspectors say the cameras are sorely needed.
Garda management also want to see body cams widely deployed across the force.
The Garda Commissioner has set up a working group in preparation for whenever the cameras become part of the Garda uniform.
While legislation is working its way through the Oireachtas, it is now more than three years since a report of the Commission on the Future of Policing recommended such cameras be introduced.
Meanwhile, body cams have become a uniform staple in other jurisdictions.
The Police Service of Northern Ireland has been using body cams since 2016, according to Jonny Byrne, a criminologist and senior lecturer at the University of Ulster.
"The PSNI slowly rolled them out, and now I think they've around 2,500 cameras, so basically anytime a police officer is out on the beat, as such, they have access to a body-worn camera," Dr Byrne said.
He said the introduction of the cameras has had a number of effects.
"They modify the behaviour of the police officer, but they also modify the behaviour of the member of the public, so it changes how interactions take place, and largely for the good," he said.
Dr Byrne noted that they were a good tool for collecting evidence in difficult environments, such as those involving domestic violence.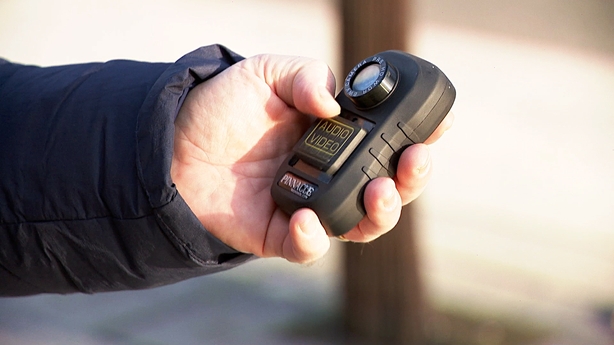 He also said that body cams often sped up the early stage of investigations, leading to a "speedier form of justice".
"They can go down paths dictated by the audio and visual material gathered from the body-worn camera," he said.
But, just because you see a police officer or a member of security personnel wearing a body cam, it does not mean the device is actually recording.
On the Luas, security officers inform people when the record switch is being pressed.
"That's really, really important, because under data protection and so on, GDPR, we need to be telling people around - not just the direct subject in front of the officer, but people in the vicinity - that there is recording going on, that they may be captured in that situation," Mr Seymour said.
One difference between body-worn cameras and standard CCTV cameras is that the body cam will also record audio.
"In terms of aggression, and threats and abuse, the camera is invaluable in terms of capturing the temperature of an event as it is happening," Mr Seymour said.
"Somebody saying something to you of a very derogatory nature, somebody saying I know where you live, I'm going to follow you home - that is very invaluable to us in terms of being able to give that in a court scenario if required."
While gardaí still wait for body cams, Mr Byrne said they are not a new form of technology in terms of policing.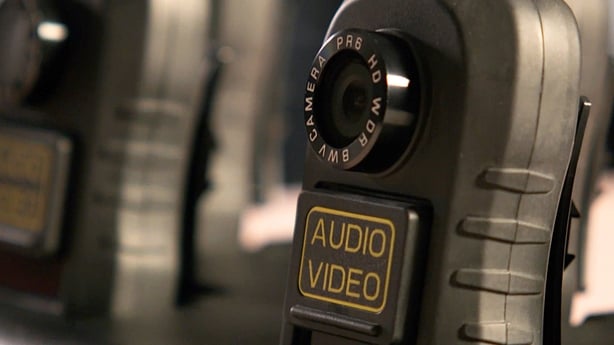 "The international research and evidence around body-worn cameras largely is positive," he said.
"They've been around for a number of decades now."
Mr Byrne believes the evidence shows that they have made policing more accountable, particularly when it comes to public-order incidents, during so-called "stop and searches", and during arrests.
"I think the key here is that they are body-worn cameras - it's about them being overt, not covert."
The Department of Justice told Prime Time it expects legislation for providing body cams to gardaí to be enacted this coming year.
But, before the cameras become operational, a code of practice will have to be established to assess impacts on human rights and data protection.
Whenever thousands of body cams are deployed to gardaí, be it in 2023 or some year thereafter, Ms Ansbro said there will be questions about what will be recorded, who will be recorded, and what will happen to that footage.
"We shouldn't be introducing new surveillance tools that collect data, our personal private data," she said, "until we have the structures and systems in place where we can be confident that we know precisely who is watching them, when and where, how they are being stored, and when they are going to be deleted."